When the Australian sun is scorching, and the earth feels like it's melting, your home is an oasis to escape the heat. However, getting the house ready for spring and summer after your winter hibernation might take more than dusting off the skirting boards and outdoor furniture. Creating a relaxed, calm, and most importantly, cool house requires light coloured, natural furniture and, of course, an endless stream of air conditioning. If your current interior design style is more 'Grandma's mahogany and plaid hand-me-downs than 'Hamptons chic', it might be time to lighten the aesthetic and update your home furniture for spring & summer. We have outdoor lounge sets for those warm summer nights or stylish sofas for relaxing days spent inside.
How to choose furniture for spring and summer
Designing a relaxed home needs materials, colours and textures that elicit a sense of calm; think linens, soft timbers, and light cotton. It might only be your bedroom furniture or living room furniture that need a summer makeover, or perhaps it's time to update the entire house quickly with a furniture package. Either way, we'll delve into the best furniture options for spring and summer, along with ideas to update your home without having to thrift every piece of Granny's furniture.
Gaudi 7PCE Natural Hardwood Dining Set
1. Start with Neutrals and Naturals
Whether you prefer Hamptons chic, eclectic, or mid-century modern, the experts believe a home can feel relaxing regardless of your personal style. That being said, there is a cardinal rule when nailing that summer look; start with neutral tones and natural materials. Our go-to is investing in naturally stained hardwood furniture that can be easily styled to match the seasons.
As you wander down the hallway, notice the timber tones throughout your house. Generally, when you're surrounded by darker tones, this can evoke a feeling of heaviness. In contrast, a home filled with natural timber finishes can create a sense of lightness; this is what we're trying to achieve. However, before hitting up the marketplace to list your old furniture, remember it's not an all or nothing principle. Mixing timber finishes can bring your space to life; however, make sure that the primary tone is lighter in summer.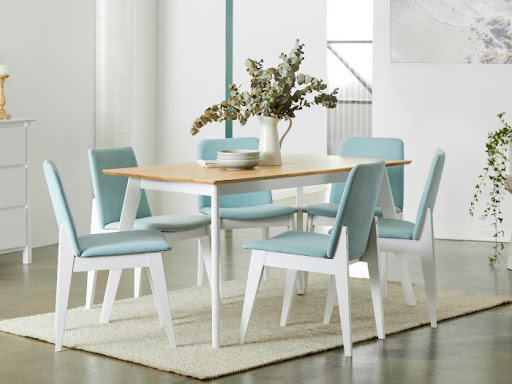 Finn 7PCE Hardwood Dining Set | Seabreeze Aqua
Let's take the bedroom for example. If your bedside tables, bed frame, and chest of drawers are all dark, you could introduce a Natural hardwood bed frame, which is the central piece, to ensure lighter tones dominate. Continuing this theme throughout the house, starting with the kid's room, a Timber trundle bed will have the same effect, and so will the addition of a modern timber dining table with upholstered dining chairs in the kitchen. The raw beauty of the naturally stained timber serves as a base to layer warmer colours and softer textures to achieve the ultimate summer sanctuary.
2. Add Warmer Tones
It could be the heat, the daily cocktails or constant socialising; either way, summer can drain your energy. Avoid the 3pm slump and balance your neutral tones and natural materials with a splash of bright mood-boosting colours. Think subtle accents of yellows, reds, oranges and pinks to uplift and energise your space. Whether you've just updated with the bed and mattress package or chosen a complete overhaul with a furniture package, it's time to inject summer vibes throughout the entire house.
While the goal is to balance colours, textures and materials, the extent of your summer makeover will depend on your personality, time, and level of commitment. The passionate renovator may infuse warmer colours by pulling out the paintbrush and power saw for a new lick of paint and fresh cabinetry. However, the less committed will still be aptly rewarded from their subtle updates; the vase of freshly cut flowers, scattering of brightly coloured cushions, or new painting hanging on the wall. The goal is not to necessarily overhaul your existing palette; however, assess your current environment and again ask yourself, is this room evoking a feeling of heaviness or lightness? All while still remembering that summer is about having fun.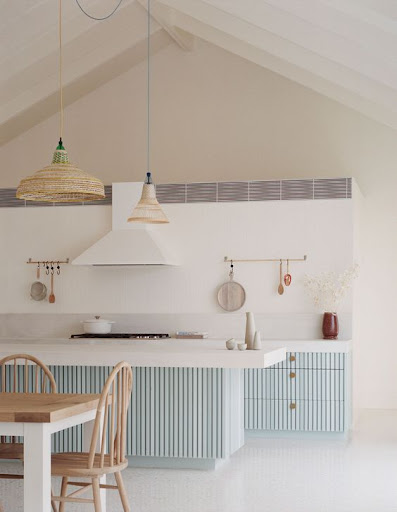 3. Lastly, don't forget the Textiles
The third and final step in achieving your summer retreat is texture, or a mix of textiles, to be precise. As you step back to observe your updated spring and summer furniture with careful pops of colour, you might feel something is missing - and that would be texture. Styling a room obviously requires furniture and a desired colour palette; however, its finishing touches like a throw over the couch, the plant in the corner and the books adorning the coffee table that tie everything together.
Much to the previous rules, your summer textures should reflect softness and calm, and bring a sense of nature into the room. Move over wool, velvet, and faux fur; summer has no place for you. Instead, try adding a clay vase, earth-toned curtains or a lighter cotton rug for a peaceful living environment. One of the easiest ways to add texture to a room is a rug. You might opt for cowhide or use a hallway runner; in any case, follow our guide to find the perfect rug size and rug placement, as this can be challenging, especially when it comes to area rugs. To complete your summer look, for now, we recommend a lighter colour, softer material, and larger size as lying on the floor can have a calming effect on us, a bit like the stress-reducing effect of nature.
Where to buy spring & summer Furniture
Now that we've established you'll be spending the hot summer days inside, it might be time to update your furniture for spring and summer. Get out the pen and paper, do a few laps around the house, and make a list of which rooms need updating. No more dull, dark furnishings, it's time to adapt to the seasons and make your home a place to relax all year round.
If you'd like to know more about our spring and summer furniture range, get in touch today with our friendly team of professionals.