Mixing Furniture with Different Wood Finishes
Sometimes, more is more! Perhaps you've been wondering about mixing wood tones in furniture, or you have floorboards and are weighing up your best options to furnish your space with wooden pieces. When it comes to mixing timbers, interior design rules and a few savvy tips will help you gain the confidence to make the space come alive with wood.
There's a reason humans have been filling their homes with wooden furniture for thousands of years. It's comfortable, beautiful and durable, and it can be carved, polished and painted– making it incredibly versatile. Plus, it has a calming effect on us, a bit like the stress-reducing effect of nature.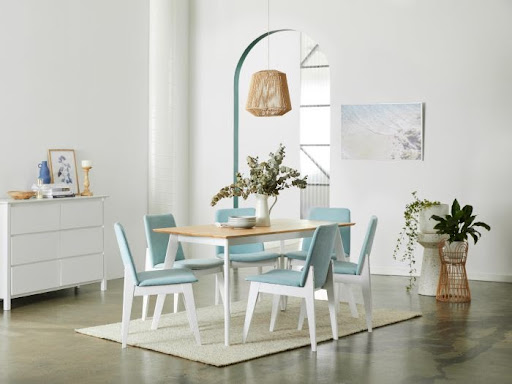 So, can you mix different coloured wood furniture in a room? In short, the answer is an emphatic 'yes!', as using the same wood in each room and all throughout the house can actually make it look a bit flat. Mixing dark and light wood furniture in the dining room, bedroom, or anywhere else is bold and inviting when it's done intentionally. Let's discuss the rules to achieve a desired mixed wood look.
Determine a Dominant Wood Tone
A cohesive interior has intention, so repetition and consistency between different rooms in the house will help to achieve that. When it comes to mixing timber furniture, find the dominant wood tone as your starting point and then introduce other woods into the overall scheme. If you don't have floorboards, which would naturally be the dominant wood tone, go for the largest piece of furniture in the room. If you're mixing dark and light wood furniture in the bedroom, consult the tone of the bed or a large chest of drawers first, and introduce another one to two woods into the space as accents. Break up all the timber in any room with rugs, plants, and different textures, or furniture that's painted or in a different material altogether.
Opt for a furniture package with furniture in the same wood tones from B2C, and when adding smaller pieces of furniture such as side tables or occasional chairs, opt for a different tone. Or, go for a contemporary living and dining room package that perfectly mixes dark and light wood to easily and instantly add excitement and interest to your space.
Use the Colour of Your Floor to Help You
As mentioned, if your space has floorboards, you've already got yourself a dominant wood tone. In fact, the floor can guide many of your other design choices. Say if the floor already contrasts greatly with the colour of the walls, it might be a good idea to steer clear of more contrast when you're furnishing the space. Inversely, if there's little contrast between the floor and the walls, increasing contrast could make the pieces of furniture pop as statements. For example, white walls and light wood flooring present a beautiful backdrop for a statement set like the hardwood dining table and chairs in rustic walnut.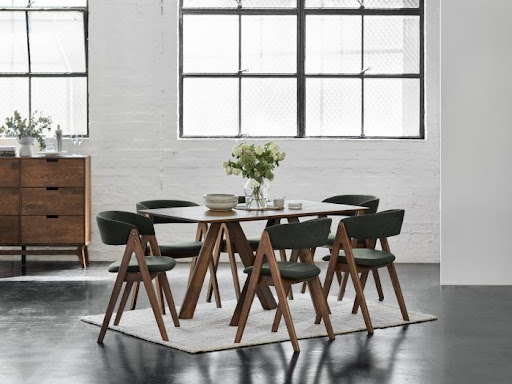 The Rule of Three
Generally, it's a good idea to stick to a maximum of three different timber tones when embarking on your wood-mixing journey to avoid creating chaotic spaces that have too much happening all at once. This includes the dominant wood tone of your floorboards, and your accent tones. Incorporate these three chosen tones throughout the home to absolutely nail the mixed wood look.
If you've been wondering, 'when is too much wood simply too much?', then consider all the woods in the home being the same tone, same finish. That's a matchy-matchy look that's far too much. Mixing woods is actually encouraged, and capping it at three will keep it balanced and structured.
Match the Undertone
If mixing dark and light wood appeals to you but you're afraid it will look too 'busy', disjointed, or lack unity, a simple rule is to match the undertones. How do you know what the undertone is? The undertone is the muted tone that throws either warmth or coolness. You'll know just by looking at the wood or stain of the floor or furniture if it's 'cool' and throwing greys and blues, or 'warm' and throwing yellows or reds. Ideally, you'll have two to three different wood tones throughout the home, all with the same matching undertone.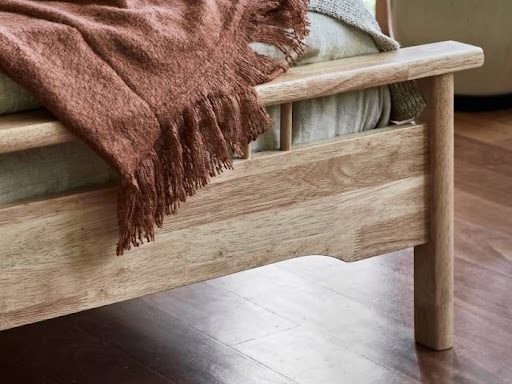 In saying that, you can get away with all light woods, or all dark woods, as long as they're each in that same tone, as it'll create that calming, Scandinavian look that's timeless and adored.
A Word on Texture
Wood textures create atmosphere, as texture effortlessly lends so much to a space. We want to feel real materials in a home, and wood achieves this well. Grain and texture have a sensory impact visually, so another way to mix and match with floorboards is to play on the 'textures' of the different coloured woods. Match the pronounced grain of the floor or furniture piece, or contrast it with more fine-grained woods. Woodgrain gives direction for the eye to follow and wooden furniture can help you to continue line elements, or break them up completely. Also, if your floor is raw and unpolished, follow suit and choose furnishings with the same finish. Same goes for glossy floors and furniture. When it comes to texture and mixing wood grains, read the room, and see what it allows.
To say 'all wood everything' has made a comeback is the understatement of the decade. Add some luscious indoor plants and you've got yourself one stylish, peaceful living environment. Wood is so characterful, and it's what we want to see in a home. Following these foolproof rules will have you decking out your spaces with different wood finishes with ease and confidence.
If you'd like to know more about mixing timber furniture, get in touch today with our friendly team of professionals.