A rug might seem a simple addition to any room, but it can make a surprising amount of difference. Whether you're looking for a show-stopping centrepiece or just something to tie the room together, a rug can be a shrewd design choice. Whatever your needs, it's worth thinking about how a rug fits both your design ideals and your living room space before diving in.
In this rug placement guide, we'll focus on rug styling tips for the living room - though you can definitely transplant this advice anywhere in the home. We'll look at why and how to place a rug in the living room. We'll give you some tips on size and design and some important points when thinking about styling a rug in the living room.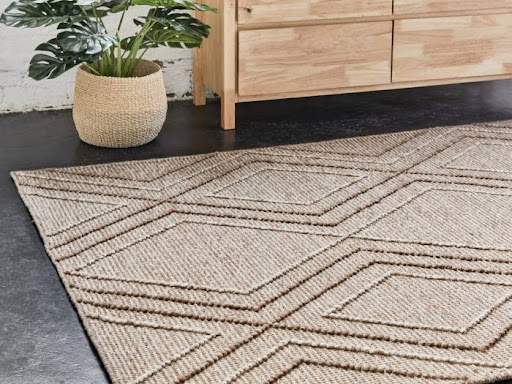 Why Should You Place a rug in a living room?
If you've ever walked across cold floorboards or tiles in the winter, you'll know the value of a rug. Beyond being practical, though, rugs have an often-overlooked style, adding flair or cohesion to the design of a room. A well-placed, thoughtfully-chosen rug can be as important to the overall look and feel of a space as any piece of furniture.
Top 3 Tips For Placing a Rug in a Living Room
Finding the right rug for your living room doesn't mean you have to call an interior designer, but there are a few things to keep in mind. Ultimately, you'll know your own home better than anyone else, so thinking about some of the following tips should help you find a perfect fit.
Size & Timing
Size
When we talk about size, we're talking about the size of the room and the size of the rug. Naturally, these tend to work in tandem. Keep a measuring tape handy - being particular will pay off in the end.
While a rug can be any size you like, there are a few points that should help you get a good balance. If your rug will be in front of your sofa, a general rule is to ensure the rug is wider than the sofa. Rugs that are narrower can throw off the proportions of the room and tend to sit awkwardly with the furniture. Generally, look to larger area rugs - if you can plant your feet while you're on the sofa (or any furniture, for that matter), then you've found a good size.
The flipside of this is an oversized rug. If your rug runs too close to the walls, you'll end up with an oddly proportioned room. You want your rug to sit comfortably within the room but not dominate and cover it wall-to-wall. Measure your room closely, and aim to leave breathing space all around.
These principles work well in other rooms, too, whether you're looking for hallway runners or a rug for the kid's bedroom.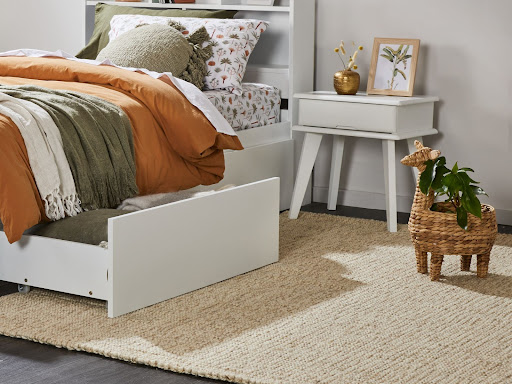 https://b2cfurniture.com.au/giza-indoor-wool-area-rug-cream-253.html
Timing
This refers to the order in which you place your rug in the room. If you're starting your living room from scratch, you may want to design everything around a rug. A rug can be a true centrepiece, and in this sense, it can help drive the direction of your room's design style. A vibrant patterned rug might set the tone for the colour palate more broadly, for example.
Often, though, you'll come to the rug after much of the room has been designed. In this case, look to the colours and textures within the room - paintings, curtains, upholstered furniture - and match the rug with these.
Flooring
The type and colour of your flooring will certainly help determine your ideal rug. Dark timber flooring tends to fare well with deeper and richer colours, while light timbers, stone and pale tiles all benefit from neutral shades like cream and charcoal.
Patterned tiles, terrazzo, and other eye-catching designs can all benefit from rugs too, but use a gentle touch. Patterned rugs can conflict with these patterns, so it's best to keep it simple with something like the blue Jocasta.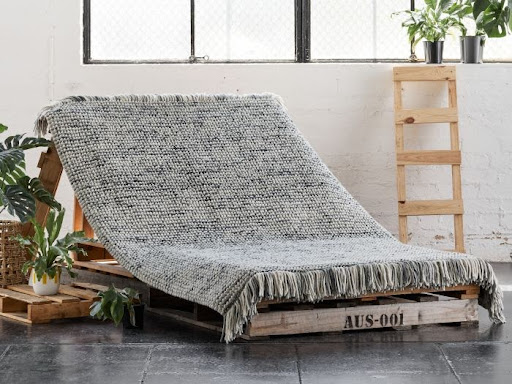 https://b2cfurniture.com.au/jocasta-hand-loomed-wool-rug-blue-242.html
Carpet, too, can benefit from a rug. A rug over the carpet can bring new life to a room, with patterned rugs working well over plain carpeting. Rugs on carpet also create a sense of luxury and warmth. Avoid a rug over deep shag pile carpeting, but otherwise follow the same advice as to other types of flooring.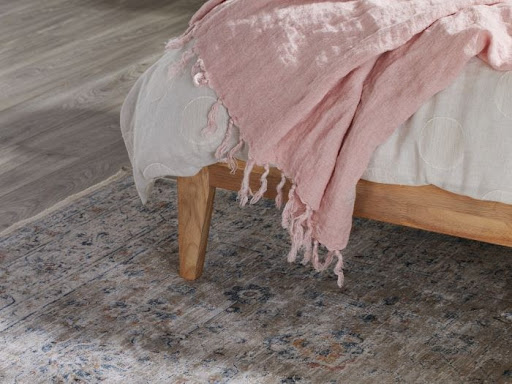 https://b2cfurniture.com.au/koda-bohemian-pattern-area-rug-252.html
Shape & Texture
Shape
It's typical for a rug to have four sides - either a square or a rectangle. The consistency of shape works well alongside the straight edges of sofas, tables and sideboards while giving a formality to the room. These are the most forgiving styles of rugs, and even if you get the sizing wrong, they'll still work nicely.
Round rugs are a great way to complement a round table, whether it's a coffee table in the lounge or a dining table. Used in a large space, a round rug can create a centre or focus to the room while also softening strong shapes and lines. These work best as smaller, feature-style rugs.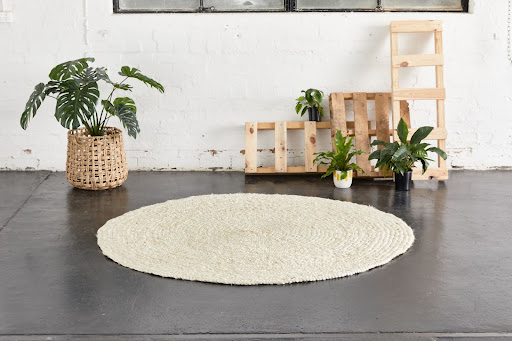 https://b2cfurniture.com.au/eden-hand-loomed-round-jute-rug-cream-240.html
Hide rugs have irregular shapes, but that can be their appeal. In rooms with very formal designs - a lot of straight lines, for example - they can add a playful touch. Consider these in open spaces in which a more typical rug shape might not work.
Texture
Rugs come in many different textures, from flat and coarse to deep and plush, with plenty of room in the middle. Busy rooms and outdoor-adjacent areas may look to more robust textures. Pet-friendly rugs, kids rugs and cowhide rugs are easier to maintain in the face of heavy traffic or exposure to mess. The same goes for outdoor rugs, where the weather is likely to factor in. When it comes to vacuuming, you'll appreciate the difference.
On the other hand, those looking to soften the harshness of stone, timber or tiled floors might appreciate the texture provided by woven rugs. These create a pleasing contrast both to the touch and to the eye.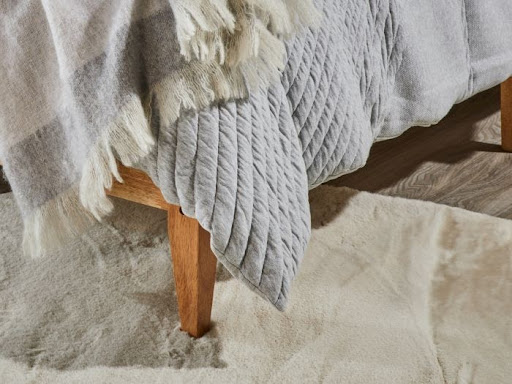 https://b2cfurniture.com.au/jenna-fluffy-round-cream-rug-259.html
Still, have a few questions about rugs? Get in touch today, our friendly team is happy to help