As the years go by, we see different interior trends come, go and encore. Today we're diving into the hottest master bedroom furniture, tips and tricks to help personify your haven in the year of 2021. Let's have a look at how we can create practical yet stylish in the bedroom, depending on your vibe! There's so many queen beds, king beds, tallboys and bedside tables amongst all the furniture stores in Melbourne. So we've brought you the best tips on how to achieve these trends.
Where are we at with sustainable furniture, Australia?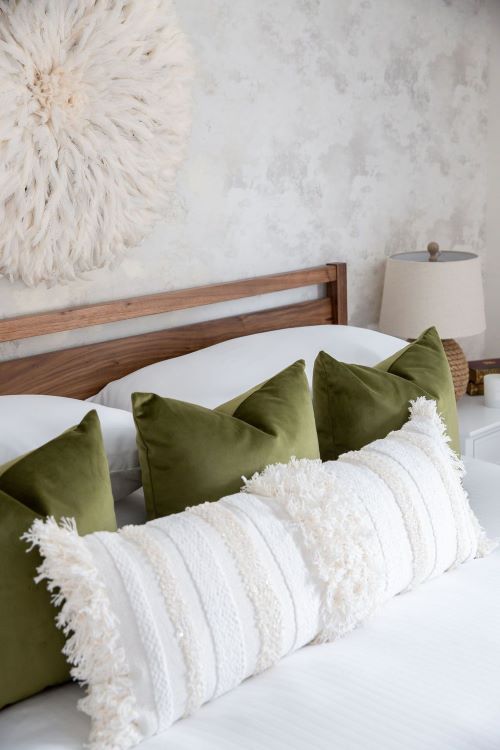 Source: www.pinterest.com.au
We're all about conscious designing and shopping at B2C Furniture. So, before we delve into styling trends, it is only fair we take a moment to acknowledge the recent universal acceleration towards making sustainable lifestyle choices, which are most prominent in our day to day lives and households.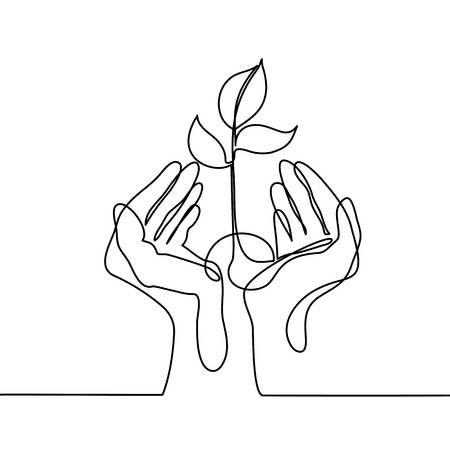 Source: www.pinterest.com.au
As climate change continues to ravage our planet, in 2021 we see a conscious trend towards hardwood furniture manufactured from sustainable forests; hardwood furniture is built to last a lifetime. The principles of sustainability in the furniture industry revolve around design and construction being of timeless quality to ensure that the pieces uphold throughout the years and create an everlasting warmth in the homes it furnishes.
Scandinavian Styling Tips for your Master Bedroom
Scandinavian-inspired styling revolves mainly around minimalism and inviting a gentle feel into your space. Keeping with the paired back neutral colour scheme as a base foundation but bringing in subtle pastel pops of colour, pattern and texture. Colours include your different shades of white and grey and when throwing in a bit of colour, stick to your neutral pink, orange, green etc.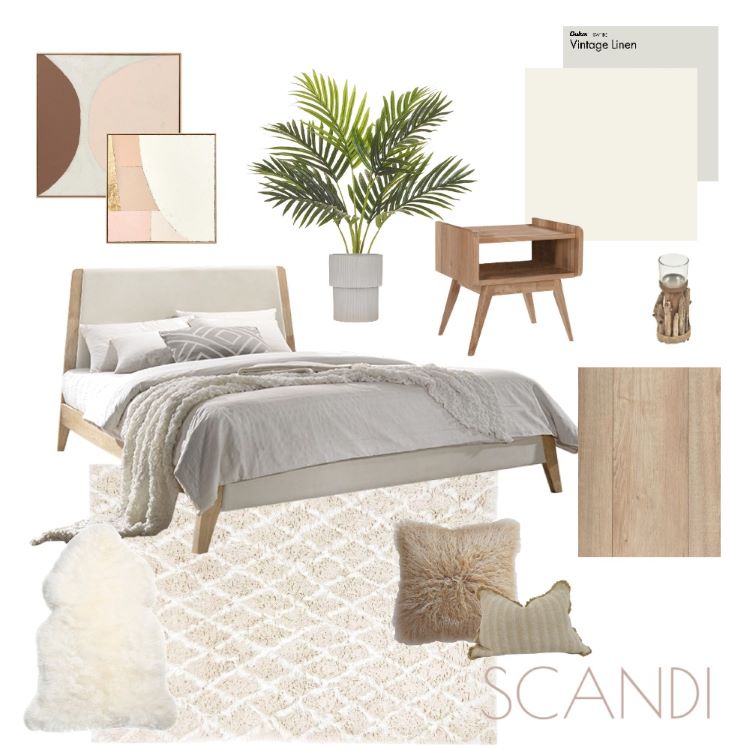 Finn Natural Hardwood Bed & Finn Natural Bedside Table
Our stunning Finn Natural Bed is a perfect choice for your new Scandi master bedroom revamp. Not only are these bedroom suites in vogue but they're constructed with sustainable timber, right on par with protecting our planet! Finn is totally inline with Scandi elements, look at that stunning neutral colour pallet! You just can't go wrong with a wooden bed frame. Curved lines add the calmness, softly textured fabric upholstered bedhead and footboard have a big tick of approval. But most importantly the pale, slimline timber frame brings in the light touch we're aiming to achieve in this calm look and feel.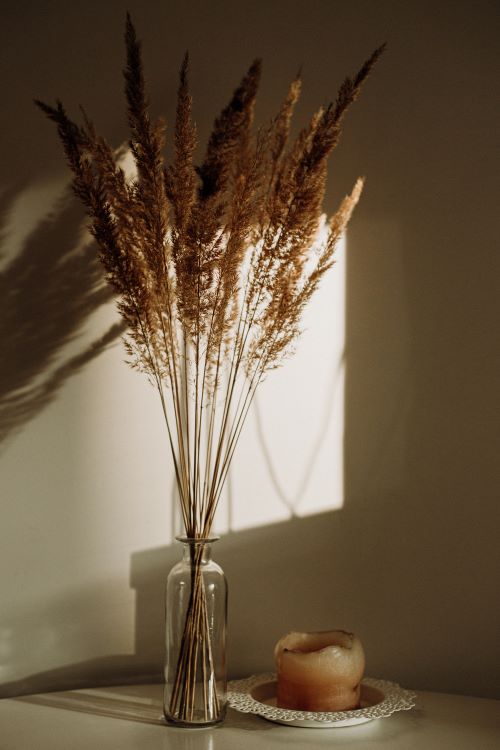 Photo by Marius Cern on Unsplash
Whether you're steering towards traditional or rustic style Scandi, there's no budging when it comes to adding texture. Pick those throws and pillows that are nice to feel and look at. Make sure you're sticking to the neutral colours, and let the layers of texture be the star of the show! You want to search for options like chunky wools, knits, linen type materials etc.
Looking for the perfect nightstand to accompany your timber bed frame? We've got you. Check out our matching Finn hardwood bedside table and let the Myer natural hardwood chest of drawers join the party too!
Don't forget about lighting! Floor lamps, table lamps, candles invite them all in as they'll be your best friend when creating a cosy atmosphere. Don't forget that Scandi is all about softness, this doesn't change when it comes to lighting.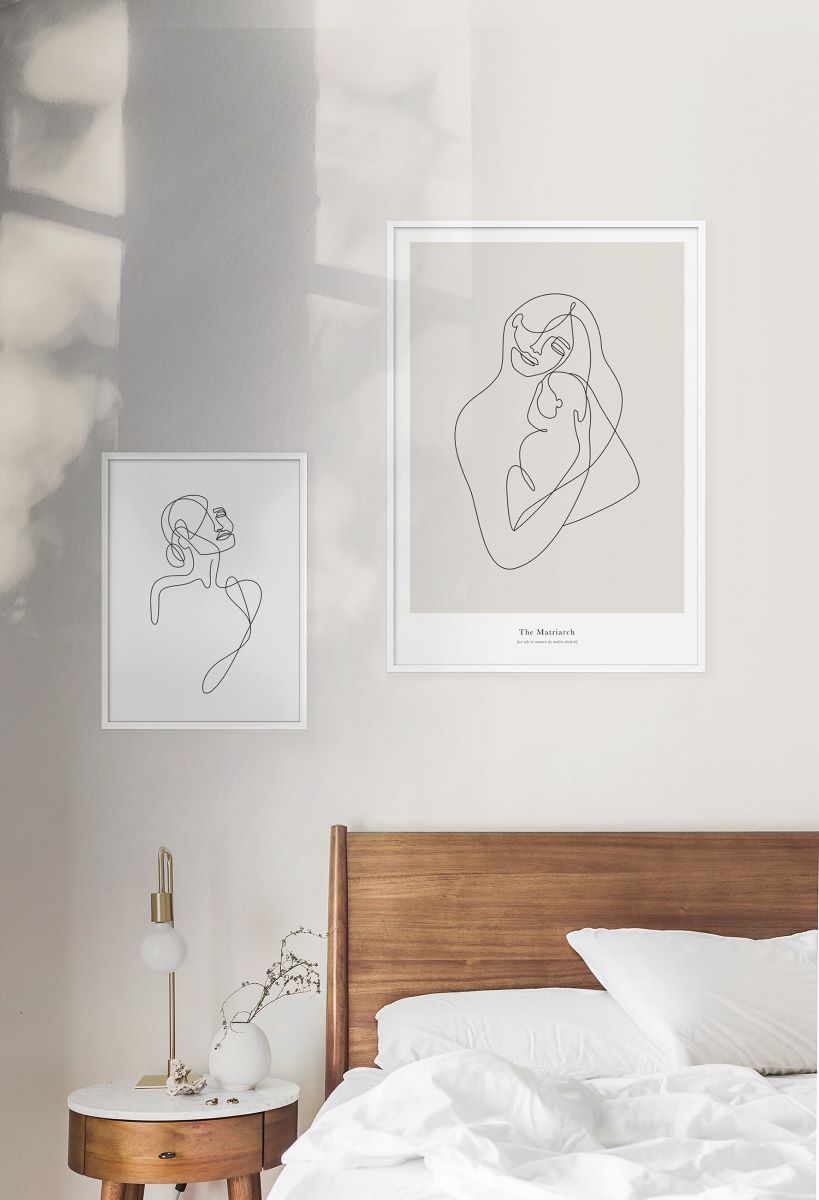 Source: www.scandinavianstylehouse.com
HOT TIP ALERT! Bright white walls will allow natural light to bounce off the walls, creating a lighter room!
A bit of a Scandi-lous twist – Japandi Bedroom Ideas
Organic, cosy, minimal - Japandi. Incorporating this genius combination of Scandinavian and Japanese interior elements creates the ultimate Zen space. The two different cultures share many same core design principles, and truly execute organic beauty and relaxation.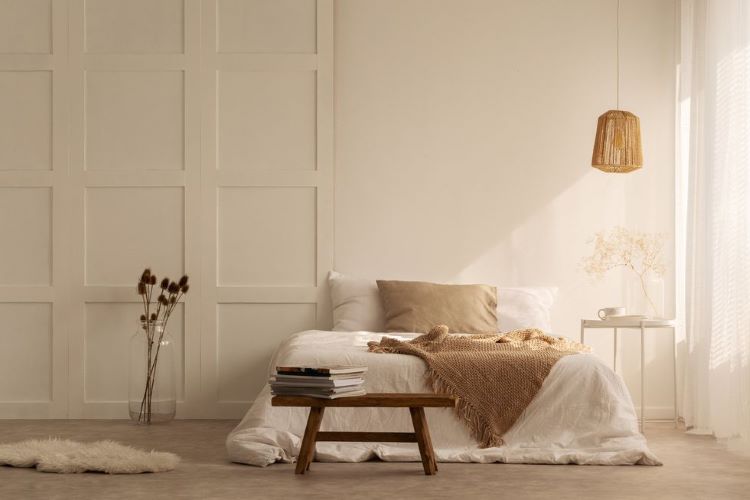 Source: www.pinterest.com.au
You've got your Scandinavian bright white, grey, ivory, cool pastel colours mixed with your Japanese richer, darker and earthier tones though still maintaining a soft and cool scheme across. Black is an ideal accent in these spaces and so is simplicity, so be sure to de-clutter your space with any items you feel serve no purpose to you or the space. Curved lines, whether in your art work, furniture, rugs etc bring in a soft and balanced groove to the heart. Though lighter timber is commonly found amongst the Scandi trend, Japandi brings in a touch of contrast, with it mainly focusing on medium to dark wood tones, just like our Walnut Rome Queen bed which also comes as a King bed. Our Rome sits lower than your average bed (very Zen like), boasts a perfect warm walnut timber stain and its stunning spindled head and footboards add a soft touch with their curved edges.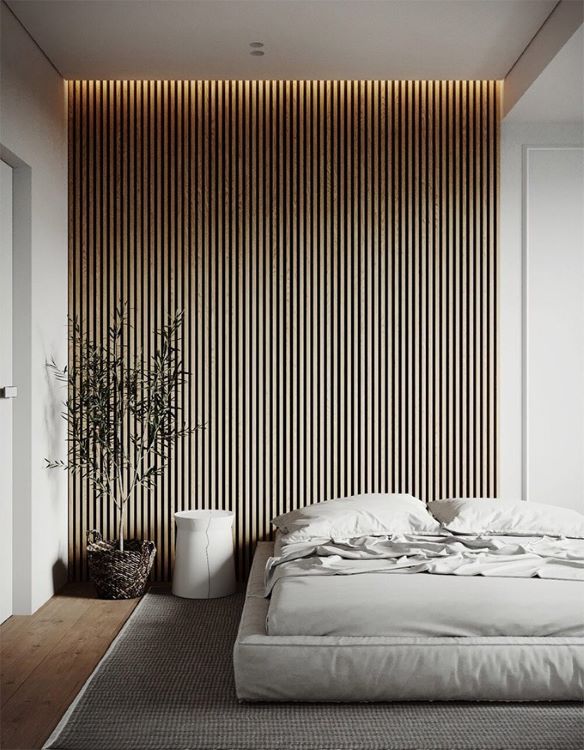 Source: www.pinterest.com.au
Organic elements are imperative in creating harmony between the indoor and outdoor. So don't you dare forget about those plants and be sure to pair them up with a stunning ceramic vase!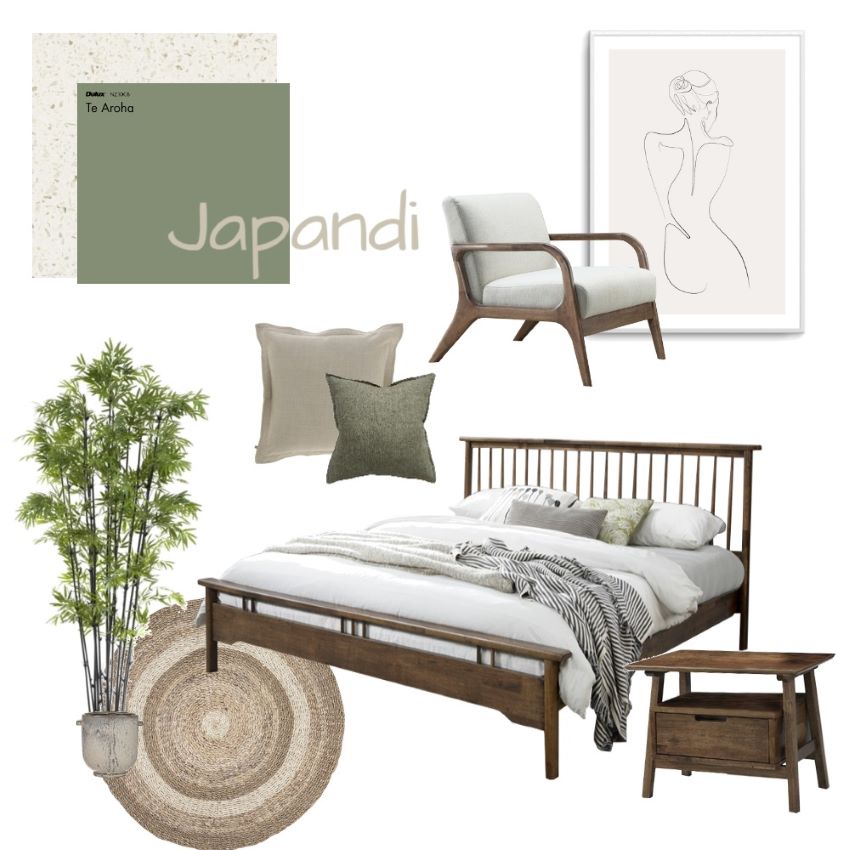 Rome Hardwood Walnut Bedroom Suite | Queen Size | King Size
Pair the bed up with our stunning Rome hardwood bedside table to complete the ultimate Japandi look! Seeing as we're opting for a minimalist look, storage is the best way to keep the unnecessary clutter hidden away in your new bedroom suite. Here's our stunning matching walnut timber stained hardwood chest of drawers AND hardwood occasional chair for ultimate comfort - you're welcome!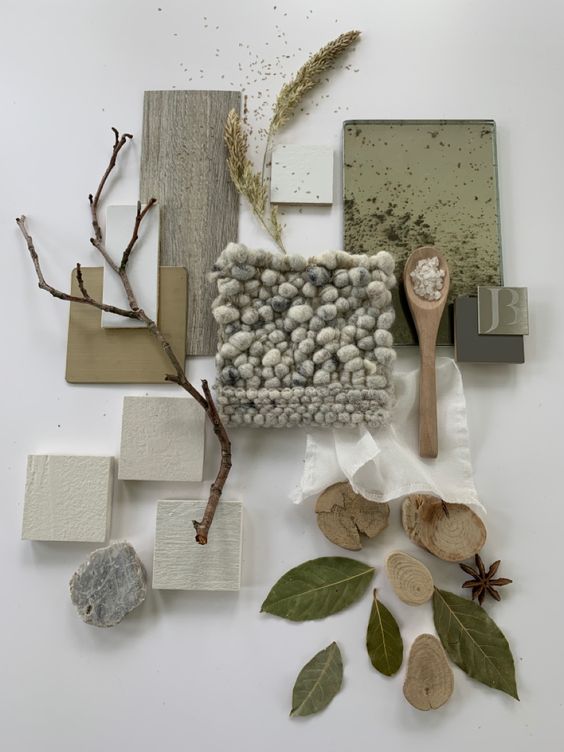 Source: www.pinterest.com.au
A final, and key, touch to your space as always is lighting! This is everything when it comes to creating a cosy atmosphere.
Quality over quantity with Japandi. Go on and embrace imperfection!
Industrial Bedroom Ideas - Let's Get to Work!
Started off with a couple soft trends, let's take it up a notch! When inviting this moody feel within your space, it is essential to create an open and spacious plan. Now we know that not everybody has a big enough space to nail this, or enough/any existing architectural features (typically exposed elements) to work with which is ideal. So, we're here to tell you how you can hack this and transform without having the working space. It's all in the decorating.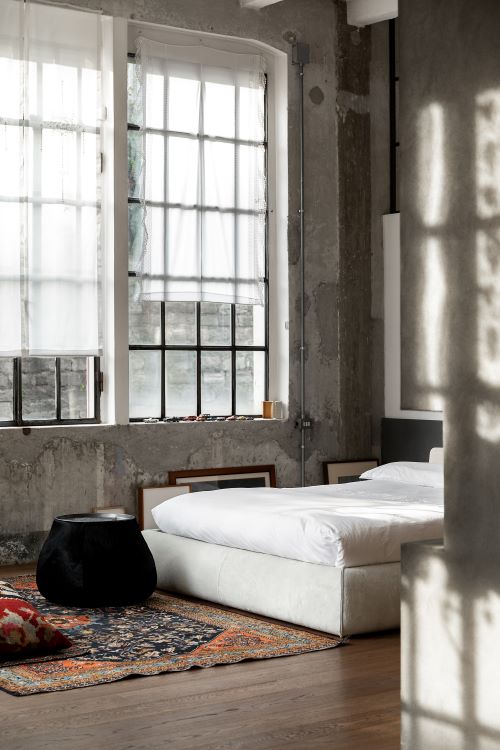 Source: www.pinterest.com.au
Anything moody tends to be on the darker, tamer side, so your colour pallet should reflect exactly this. Black, grey, white, etc so basically your neutrals, is what you want to stick to, but don't shy away from varying the texture and shade of these colours!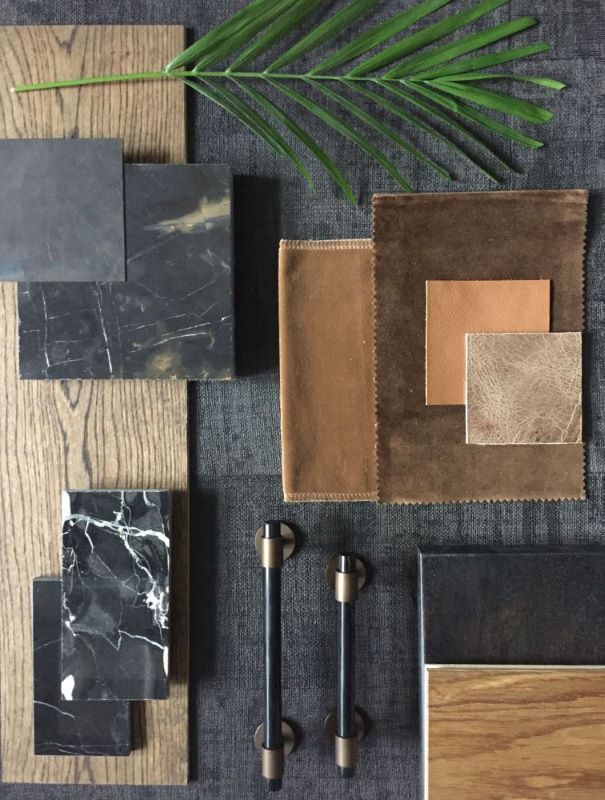 Source: www.pinterest.com.au
Let's start by looking at our main bedroom furniture piece, the bed, and work our way around it. We could not recommend our Rustic Walnut Cruz Bed enough for this style, its warm walnut timber stain provides you with an amazing organic material to work and mix with your heavier and harsher materials such as metal and steel which really bring in that rustic industrial feel. You can purchase this either as a queen size bed or king size bed to suit your needs!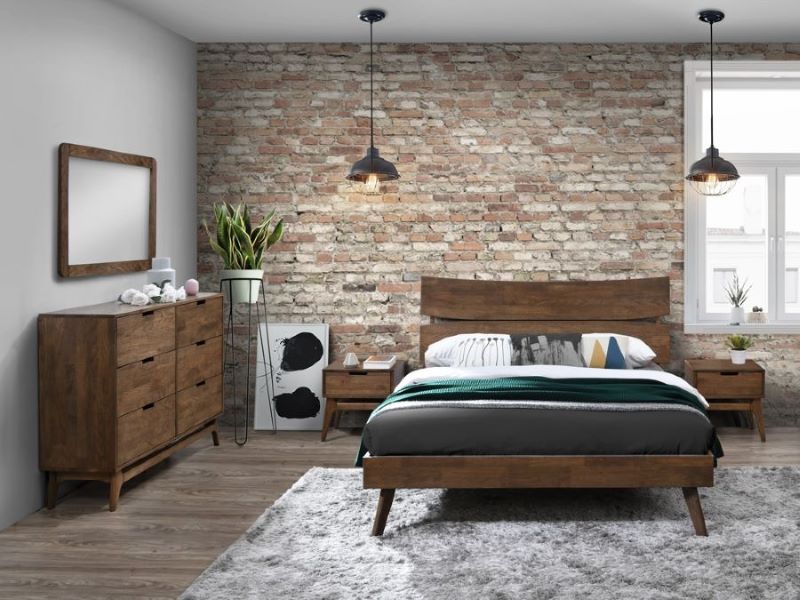 Cruz Hardwood Walnut | Queen Size | King Size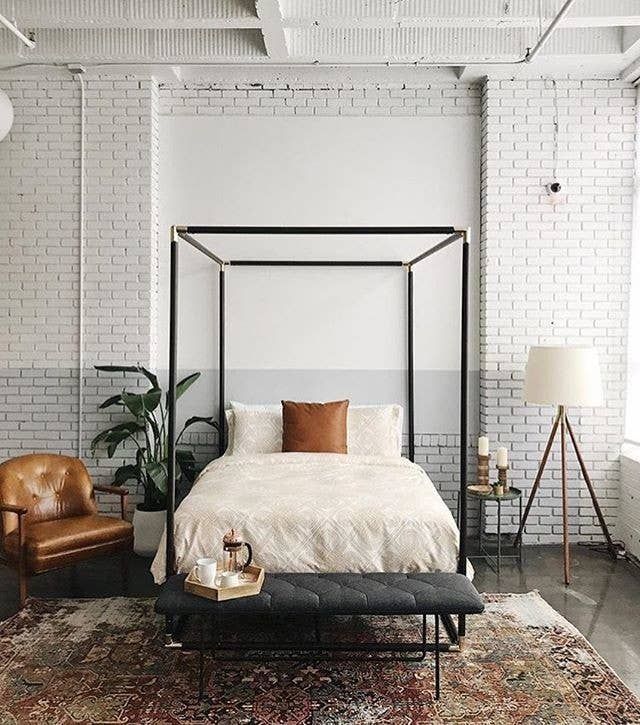 Source: www.pinterest.com.au
Our industrial rustic style tends to be a little rough around the edges, but everybody needs some warm lovin'! Adding artificial lighting such as metal lighting, multi directional lights, warmer light bulbs (Edison) etc, will help add warmth into what may seem like a cold space.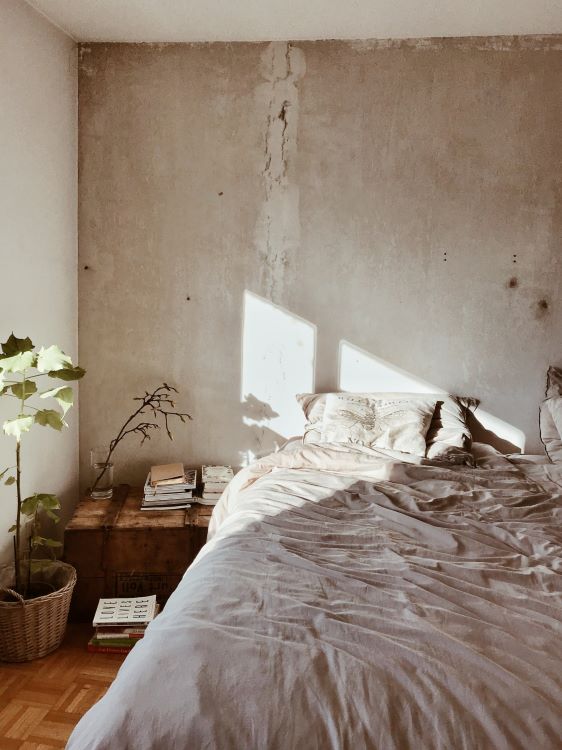 Source: www.pinterest.com.au
Don't isolate your Cruz hardwood bed frame, you'll have our solid hardwood bedside tables feeling FOMO...
HOT TIP ALERT! Head down to your local thrift shop, second-hand markets or garage sales and fetch some old worn in books, antique clocks, even furniture to add more character to your rustic space.
Bohemian (Boho) Bedroom Styling Tips 2021
Love to spend time outdoors, so much so that you've considered living outdoors? Didn't think so, why not invite the great outdoors in!? Boho is totally your jam if you want to achieve a vibrant, cosy and earthy feel. We want this design to incorporate lots of different textures that look and feel nice and cosy eg. blankets, throw pillows, chunk knits, leather, stone etc. And colours that take your heart to Morocco. But let's draw the line at three colours and use these to tie in various neutral colours across styling Boho.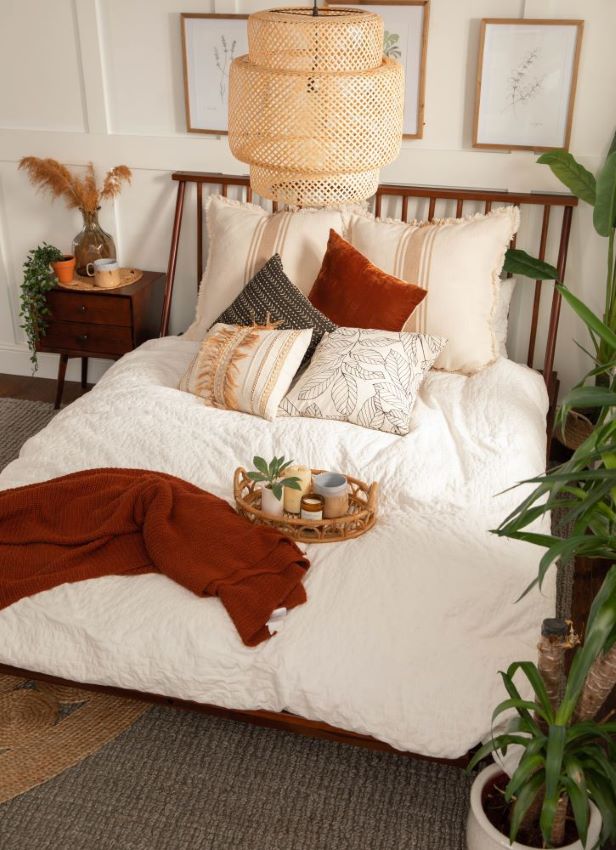 Source: www.pinterest.com.au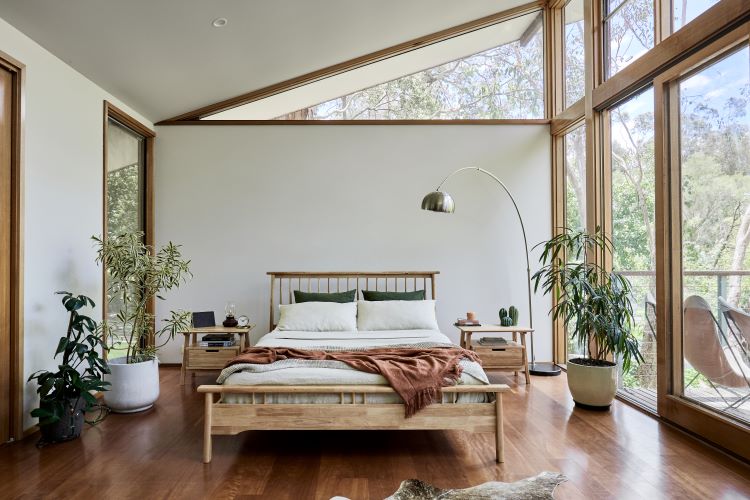 Rome Natural Hardwood Bedroom Suite | Queen Size | King Size
The most essential decorative touch is to incorporate so many plants, you feel like you're in a jungle! Of course, with any earthy trend, timber (amongst other organic materials) is a must. In Boho style, you want to stick to your lighter timbers. Remember, low level furniture steers you in an earthy, relaxing direction as it creates a chilled out feel.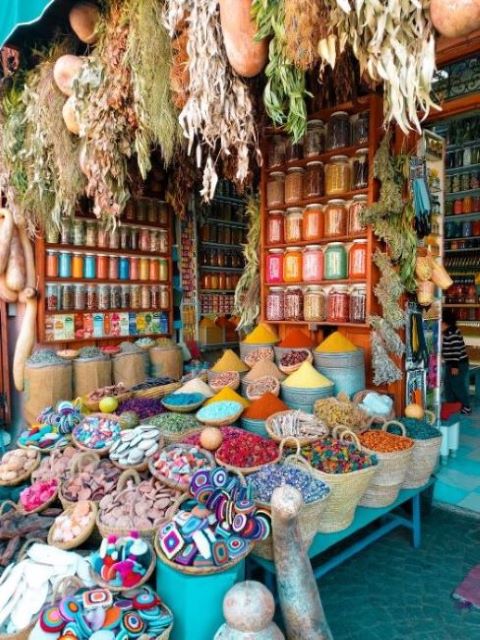 Photo by zakariae daoui on Unsplash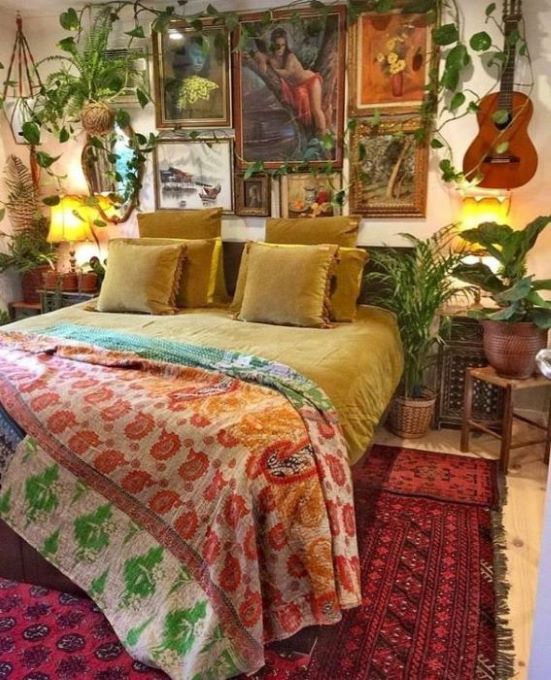 Source: www.pinterest.com.au
So, I'll point you to our stunning Rome bed again but in the alternative stunning natural timber stain. Seeing as we're trying to evoke a feeling of brightness but also tying it in with relaxation, we want to steer away from the dark, heavy furniture and look more towards your lighter timbers. This is why our Rome and its naturally stained timber frame is the way to go over our walnut in helping execute this. In respect to the design of the bed, the bedhead and footboard have perfectly curated spindles with soft rounded edges create an airy, light look, helping us avoid bulkiness.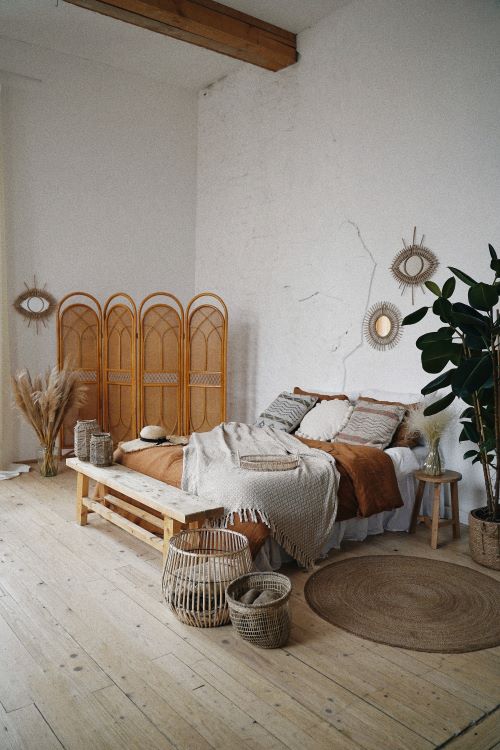 Source: www.pinterest.com.au
Our natural Rome hardwood bedside tables are funky, fresh and sturdy! Don't forget to add them to your bedroom furniture package. If you're struggling to find bedroom storage, be sure to include our matching natural Myer hardwood chest of drawers!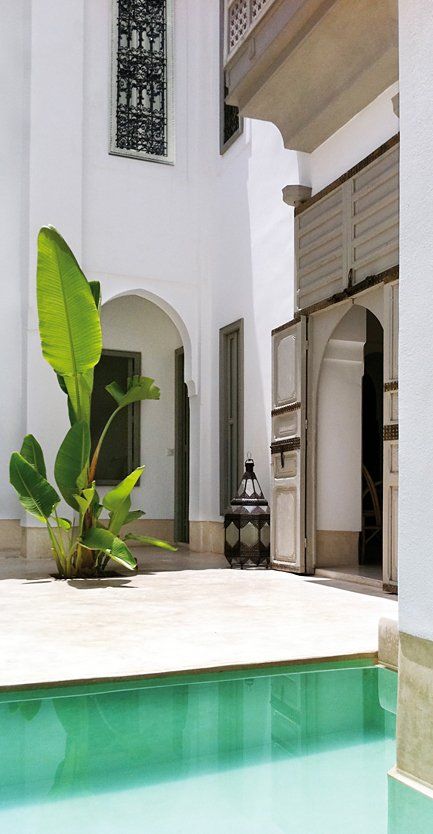 Source: www.pinterest.com.au
That's a Wrap, It's Time to Bring Your Dreamy Master Bedroom to Life!
No matter the trend you're styling in your master bedroom, remember to have FUN! Enjoy every part of the experience and throw all the love into it. Embrace the imperfections but also plan ahead to get a clearer visual understanding of the picture you're trying to bring to life!
We currently have our furniture store in Melbourne & a furniture store in Sydney coming soon - come say hi!