What is an Entertainment or TV Unit?
If you're like most Australians, the TV is the focal point of your living room. It doesn't matter if you watch TV for entertainment with your friends or relaxation with your family; your TV deserves the same design aesthetics as the rest of your home. TV entertainment units are more than just a home for your TV. They are functional pieces of furniture that offer great stylish storage solutions.
But with so many TV units available, it can be hard to work out how to style a TV to suit your living room. The tips below will help you decorate a TV unit and give you TV unit décor ideas.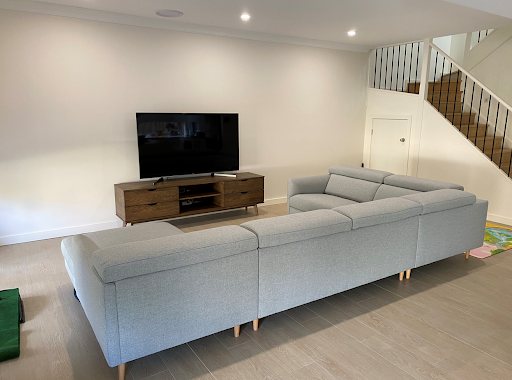 Paris TV unit
Importance of Decorating Your TV Unit
Fitting a TV into the aesthetic of your living room starts with figuring out which size and style of TV entertainment unit you'll require. Our modern TV entertainment units are constructed with solid timber using quality craftsmanship and have a contemporary look that will be part of your family for years to come. TV units provide a chic place with drawers and shelves to hide wires and cables. They also offer a place to put games consoles, remote controls, and set-top boxes. 
Unlike TV wall units made from cheap chipboard with a cheap factory finish, our TV units are hand-finished with premium stains and finishes. Whether your living room décor is retro, mid-century or even Scandi-style, our hardwood TV entertainment units suit all styles of living rooms.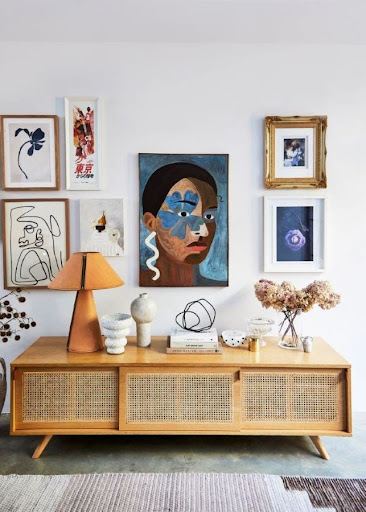 5 Different TV Unit Décor Ideas
Once you've bought your TV unit, it's time to make it part of your décor, so it becomes a natural part of the room, not an eyesore. Our five favourite ways to decorate your TV unit include:
Create wall gallery

: Choose your favourite photos, wall prints and frames and hang them around the TV screen, so they take your attention off it. For a splash of colour, choose a colour palette of 3 or 4 swatches. An elegant black and white theme will give you a stylish, sleek look.

Add accessories

: When you're adding accessories to your TV unit, keep them in groups of 3 or 5. Think about the height of each item, e.g., a vase on one side of your TV might be matched with a decorative object on the other side. If you're a fan of interior plants, a TV entertainment unit is also an excellent place for them, particularly if they're near natural light. 

Utilise the open shelving

: With most TV entertainment units having open shelving, you can fill them with your favourite books and magazines. To avoid clutter, save the closed drawers for items like remotes and game consoles.

Bundle decorative items on trays

: If you've got smaller accessories like candles or ornaments, a tray on top of your TV entertainment unit is a perfect way to display them. This tray could also be used as a drinks tray when you're entertaining family and friends.

Add a mirror above or next to the TV unit

: Placing a large mirror to one side of your TV unit will take your attention off the TV screen and add depth and light to your living room. Haven't got the space? Why not hang a mirror above the TV screen to add a pop of chic style to your living room.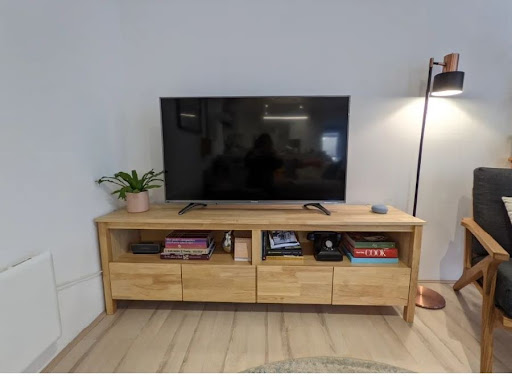 Coco TV unit
Ensure there's a wall mount for the TV
Whether you're mounting a TV in your bedroom or living room, it's essential that you find a way to incorporate the TV into the room's décor seamlessly. One of the best ways to do this is to wall-mount it. But before you mount your TV on the wall, you'll need to consider the location and think about the viewing angle, access to power outlets and sun exposure. You'll also need to consider where the power cables will go. After all, you don't want to be distracted watching TV with dangling cables and cords! 
Wall-mounting a TV can seem like a simple task, but there are a few things you need to be aware of:
You need to be 100% sure the wall you're mounting your TV on is solid. Mounting your TV on a wall that hasn't got the support can end in disaster.

You need to mount the TV at the right height on the wall. While there's always debate around the ideal height, you need to consider the eye height of the people in your home who'll be watching TV. Also, consider if people standing up in the kitchen or at a bar will be watching the TV. This will affect the height you choose to mount your TV.
Install it above a fireplace
With many homes now having a fireplace, you may want to mount your TV above it. Before you do, it's helpful to consider the following.
Check the temperature before you wall-mount your TV above the fireplace. If you want to have your fire on while watching TV, it's important to check that the fireplace's heat doesn't adversely affect your TV's product warranties. For a simple way to check the surface temperature of the wall, tape a thermometer to the wall and/or fire's hearth. If the temperature exceeds the recommended temperature, you may want to reconsider installing your TV above the fireplace.
Choose a safe method to wall-mount your TV above the fireplace

.
When selecting the type of mounting system for your TV, you should consider the weight and size, so the TV stays safely secured to the wall. If your fireplace has plasterboard behind it, you'll need to attach the mounting system to a wall stud. You should also pay attention to the TV manufacturer's instructions for mounting the TV to the wall.
  

Decide how to hide power sources
To minimise visual clutter, managing electrical wires and cables for a wall-mount TV is very important. If the power source for your TV isn't close to the wall, book your electrician in to move it closer. 
Add flowers or plants
Adding a vase of flowers to your TV entertainment unit not only brings pops of colour to your home, but it can add fragrance too. Love your indoor plants and how they make you feel calmer and happier? Your favourite indoor plant on your TV unit will not only add greenery to your living room or bedroom but help you feel more relaxed.
Books & Candles
When you have a TV entertainment unit with open shelves, you can display your favourite books underneath with your candles on the top shelf. 
Add Lamps
Adding side lamps to your TV entertainment unit can give you the finishing touch you were looking for. A stylish side lamp on your TV unit can give your living room a welcoming and warm presence that instantly releases your workday stress and tension.
What to consider when styling a TV Unit?
Once your TV unit has been delivered, and your TV has been wall-mounted, it's time to think about styling it by considering room size, functionality and style and design. Because even though you love watching TV, you don't want to be reminded it's on your wall 24/7!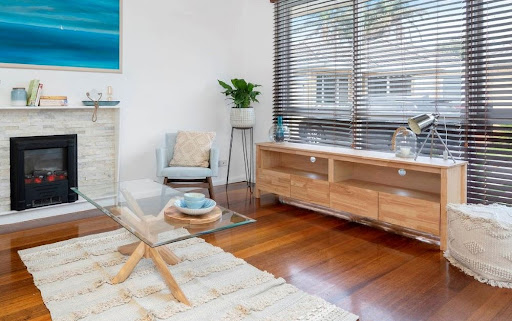 Coco TV unit
Room Size
The size of your TV entertainment unit needs to consider the measurements of your room and how the TV will integrate into the rest of the living room. If you've got a larger living room, you may decide on an overall storage system attached to the wall behind the unit. For smaller living spaces, a low profile and streamlined TV unit may be more appropriate.
Functionality
When you're searching for the best TV entertainment unit, you should consider if it can house all your entertainment needs. For instance, does it have enough space for your home's Wi-Fi, Apple, and Google devices?
Style & Design
If you love watching TV, there are plenty of ways you can make it look as minimally invasive as possible. Using the above tips and techniques and incorporating a stylish and functional TV unit into your décor, you'll enjoy watching TV while being content with the TV's not overshadowing your décor.
Ready to get a new TV unit? Check out our affordable and stylish TV and entertainment units.