Cost-effective, space-saving, and fun; bunk beds are a clever and stylish design for your kids' bedroom. However, many parents have safety concerns, and rightfully so! Some of the most common questions we hear from parents are: Will my child be flying off the top bunk like Spiderman? Could they fall off the upper level during sleep? What if they trip down the ladder when they get up to go to the bathroom in the middle of the night? Is it safe for my child to sleep on the bottom bunk? As a parent, it's second nature to worry, but before we work ourselves into a state of panic, imagining a midnight trip to A&E, let's press pause and explore the safety requirements to determine if a bunk bed is right for your family. Read on for our helpful guide of dos and don'ts!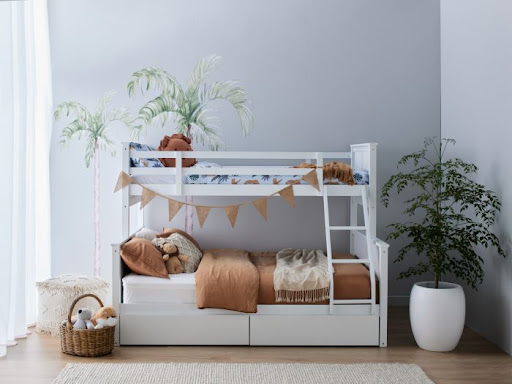 Myer White Triple Bunk Bed with Storage | Hardwood Frame
What Is the Recommended Age for Bunk Beds?
Bunk beds have many perks when used safely. When it comes to elevated sleeping arrangements, it's important to consider your kids' age. Half of all bunk bed related injuries occur in children younger than 6 years of age. Smaller bodies are more vulnerable to injury from falls, and younger children tend to be less self-aware and less vigilant about their safety. For these reasons, the Red Nose Sleep Organisation considers the safe age for bunk beds (when using the upper level) as 9 years. However, not all children learn at the same pace, so it's important to base your decision to get a bunk bed based on the individual child. We also highly encourage parents to have a chat with their children about bunk bed safety beforehand, because we all know how they can get caught up in all of the excitement!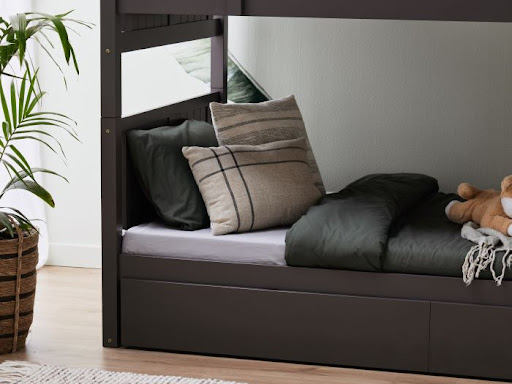 Myer Grey King Single Bunk Bed with Storage | Hardwood Frame
How to Know You are Buying a Safe Bunk Bed?
Bunk beds sold in Australia must comply with the national standard AS/NZS 4220, which outlines safety requirements for elevated beds. In accordance with this standard, all safe bunk beds must have:
Permanently fixed guardrails on all four sides, with a minimum of 130mm vertical distance between the top of the guardrail and the upper surface of the mattress.

Gaps between guardrails that are 3.5 inches or less.

No hazardous protrusions greater than 8mm.

A label that indicates the maximum mattress height on the upper level.

Undergone testing to ensure they meet safety requirements.
At B2C Furniture, we value the importance of peace of mind. All of our bunk beds are constructed in line with the Australian safety standards.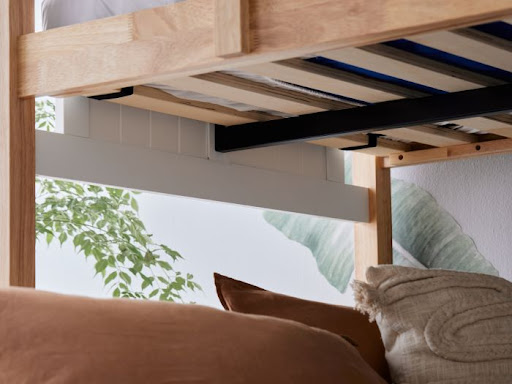 Myer King Single Bunk Bed with Storage | Hardwood Frame
How Much Weight Can a Bunk Bed Hold?
The weight capacity of a bunk bed varies depending on the construction materials, though most models will safely support at least 80kg on the upper level and 160kg on the lower level. If you are looking at a triple bunk bed in particular, the frame should be strong enough to support the added weight of a third person.
B2C Furniture's range of kids' bunk beds are solid and sturdy, made from durable hardwood and reinforced with a metal support beam on the top bunk for good measure. Unlike fast furniture brands that opt for cheap chipboard and flimsy wood composites, our bunk beds - like all our kids beds - offer peace of mind and a superior sleep experience. Our extra safe bunk beds combine style and functionality, and include innovative design features. If you're looking to maximise your kids' space for study and play, take a look at our Kids Loft Bed, or for added drawers for all your tyke's toys and clothes, consider one of our kids' bunk beds with storage.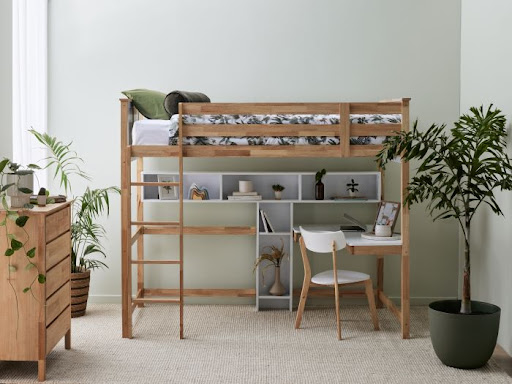 Buddy King Single Loft Bed with Desk and Shelves | Natural Hardwood Frame
Are Bunks Structurally Safe?
If it wasn't clear by now, it's important to make sure you're purchasing bunk beds that comply with national safety standards firstly! Secondly, make sure they are made from high quality materials like hardwood or steel for strength and longevity. When assembled and used correctly in accordance with the manufacturer's instructions, bunk beds will maintain their structural integrity, for years to come.
Other Tips on How to Make Bunk Beds Safe
If you're still concerned or unsure about bunk beds, we've got a few extra pointers when installing your bunk bed for a little extra piece of mind.
Hardwood or metal bunks?
While metal bunk beds can be constructed in line with the national safety standard, the material itself is prone to instability and degradation. High-quality wood is much sturdier than metal, and retains its integrity over a longer period of time. The strongest, safest bunk beds on the market are made from solid wood varieties such as pine, birch, oak, ironwood, rubberwood, and mango wood.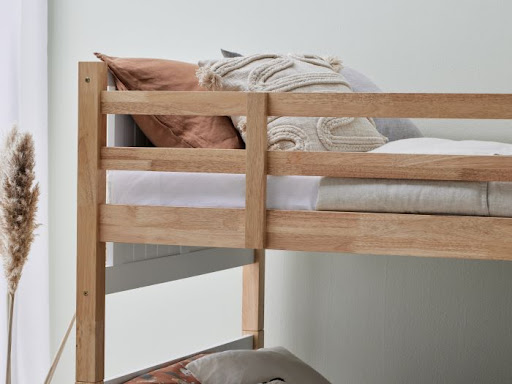 Myer Single Bunk Bed with Storage | Hardwood Frame
Are bunk beds safe for my toddler?
In short no, with toddlers being expert climbers we would not recommend bunks for toddlers. The top level of bunk beds are not suitable for children under the age of 9. The lower bed may be used by children as young as 18 months, though cots and transitional toddler beds are much more suitable for children under the age of 3. If your thinking of purchasing a bed that can grow with them, we suggest looking for something with the potential to convert.
B2C Furniture's innovative bunk bed designs give you the flexibility to use the bunks as separate bed when the kids are little and can be stacked into bunk beds when they are older. A safe and convenient solution for kids of all ages so you don't have to break the bank re-purchasing beds down the track!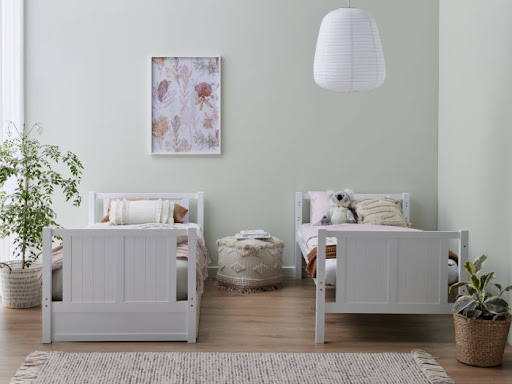 Myer White Single Bunk Bed with Storage | Hardwood Frame
Extra safety measures
To create an extra safe sleeping environment, place your kids' bunk bed in the corner of their room for added support from walls on two sides, and reduce the likelihood of falls. You should also ensure that the ladder steps are clean and clear at all times, and that there are no hazardous objects on the floor around the bed. Installing a night light near the ladder can also be helpful. Above all, make sure your children are aware of how to use their bunk beds safely and instruct them on the proper way to use the ladder.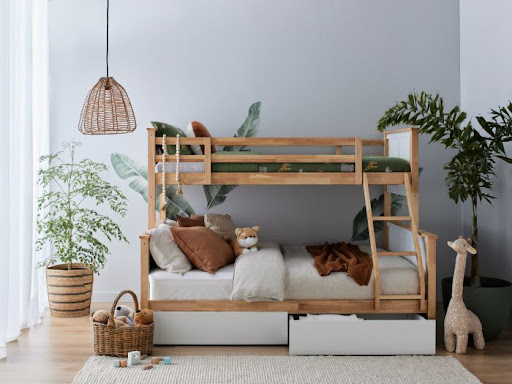 Myer Triple Bunk Bed with Storage in White and Natural
You can still be the cool parent whilst being the safe parent! For the ultimate in safety and longevity, look for designs that are made from durable, high quality hard wood or steel, constructed in line with the national safety standard AS/NZS 4220, and suitable for your childrens' ages. Equip your kids with the knowledge they need by educating them on bunk bed safety, and ensure that they are aware of the risks.
For growing bodies, sleep is important; so is their bed. Make the right choice, and sleep easy.