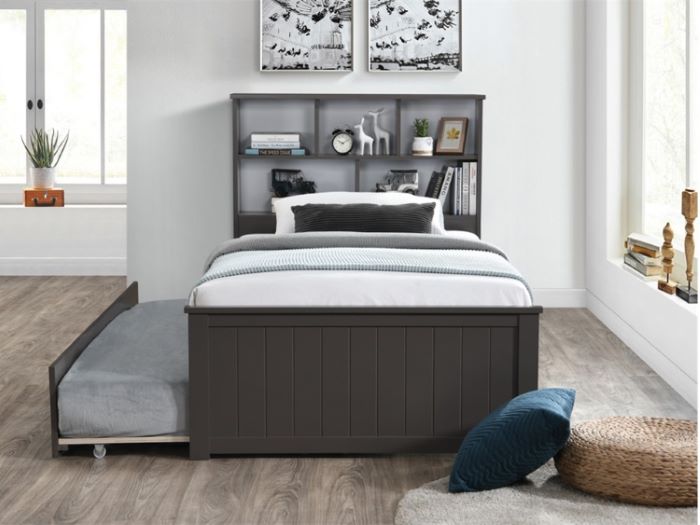 Myer Grey Single Bed with Trundle
WHAT YOU NEED TO KNOW WHEN BUYING A TRUNDLE BED!
Feeling overwhelmed by all your trundle bed options or still find yourself thinking, what is a trundle bed? Today's read will help to guide you to make an informed decision on whether this multipurpose piece of bedroom furniture is right for you, by outlining the pros and cons and more!
WHAT IS A TRUNDLE BED?
A trundle bed is a secondary bed that rolls under a main bed frame. They are typically designed on wheels or runners and made out of the same materials you find in your everyday beds (e.g. timber, metal and upholstered trundles too).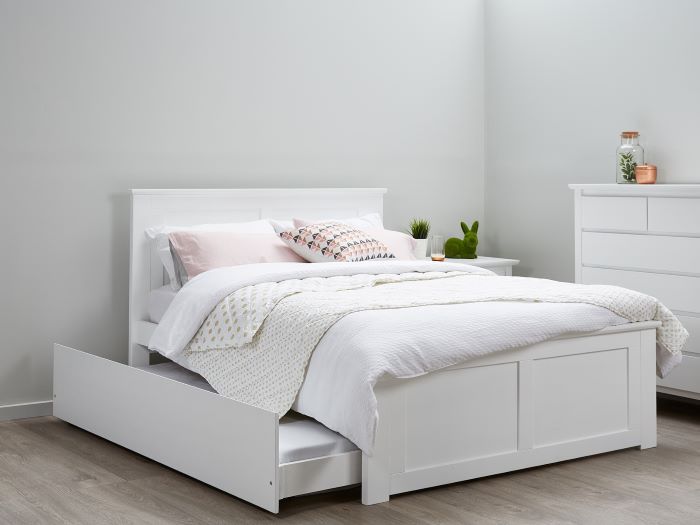 Coco White Double Bed with Trundle
WHAT'S THE PURPOSE OF A TRUNDLE BED?
They are popular in children's bedrooms, spare bedrooms and rental holiday homes too. The trundle bed is super convenient for households with frequent overnight stays, whether intended for an adult or child. The simplicity of them rolling out on wheels, makes it ever so easy to set the bed up for a night's rest and then tuck it away neatly and out of sight when not in use. Avoid the trouble of setting up an uncomfortable blow-up mattress for your guest.
TRUNDLE BED BENEFITS
So many benefits to discuss and so little cons. These two in one designs allow you to make use of the room to its fullest potential, as you don't have to stress about having a whole other bed set up, taking up space for minimal use.
Opting for a trundle bed is perfect when you have space constraints! With the size of homes diminishing by the day, it can be a real struggle to design your bedroom space with a nice balance of functional and fit for purpose! Minimalism and tidiness are the key goal scorers for the trundle bed, as it tucks away inconspicuously when there's no need for it.
Got guests coming to visit? A trundle bed can be a far more cost-effective option when preparing to accommodate your guests. Why break the bank paying for two pieces of bedroom furniture when you can invest in a trundle bed? It's especially financially beneficial when they're not being used frequently. Go spend that extra dosh you've just saved on a nice bottle of vino for you and your guests!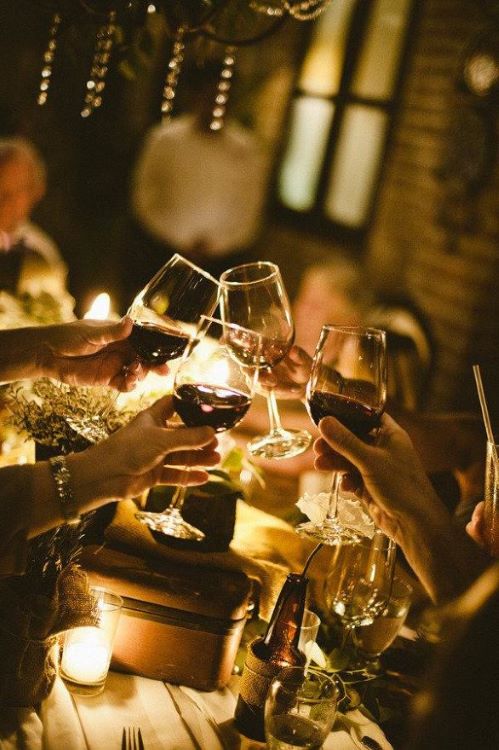 Source: www.pinterest.com
The convenience of a trundle bed is second to none, and you may be surprised to know that there are even some beds with a trundle and storage within the one design too, like our Ari Single Bed. It doesn't get better than having a nifty bed with all the sheets or relevant night time belongings in the one space.
If you're lacking storage, you can sneakily use the trundle bed as extra storage space too. Store your sheets, pillows, amongst other things in the trundle bed for your convenience. Does it get better than that?
TRUNDLE BED DOWNSIDES
The downsides help us clearly determine whether this trundle bed is or isn't fit for you.
Most commonly found in the kid's beds section in furniture stores, sizing can be limited to a single bed with trundle and king single trundle bed, but this doesn't go to say that it's not intended for adults. Though a double trundle bed may not be so easy to find, we have you covered at B2C Furniture with our stunning Coco Double Bed and Trundle.
As we know, trundle beds are under your standard bed frame, so you're working with a specific clearance for the mattress to tuck under comfortably. This specification will of course vary on the beds design, but it may mean you will be limited to a foam mattress due to its minimal thickness. Seeing as they are relatively basic, comfort is not at the forefront of its agenda. Therefore, sourcing a comfortable yet thin mattress can be difficult and more costly - but definitely doable!

CAN YOU PUT A TRUNDLE UNDER ANY BED?
Some may think that any kind of trundle can roll under any bed, think again! Each bed and trundle is designed differently. Therefore, if you want to add trundle to an existing bed, be sure to read the product details carefully as you would hate to be caught out with your trundle not fitting your bed frame.
TRUNDLE BED TYPES
Trundle beds come in different sizes but are most commonly designed to pair withsingle beds, king single beds, double beds and also some bunk beds, the most common kinds are kids trundle beds. Though mostly used for guest purposes, another great use for the trundle feature is when your tot is transitioning from the cot. We find that sometimes parents/guardians buy these beds to accompany their little one when they're struggling to doze off.
A double bed with trundle will typically have a single trundle bed underneath seeing as the lengths of a double and single are matched. This single size may or may not be standard depending on its design (be sure to check!).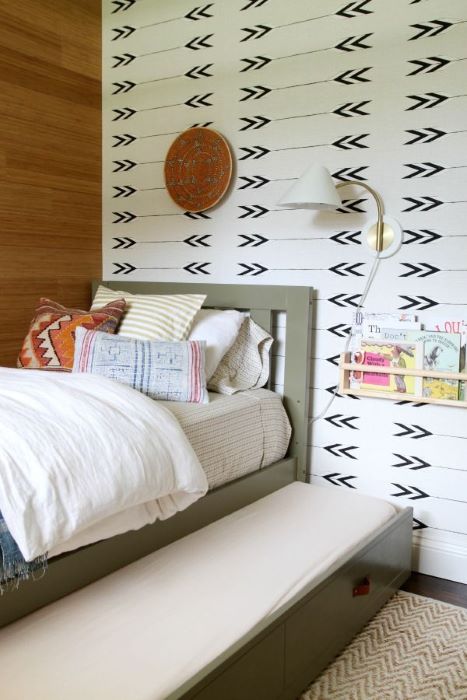 Source: https://www.housetweaking.com
WHAT IS THE BEST MATTRESS FOR A TRUNDLE BED?
Finally picked the trundle bed that your heart desires? We commonly find customers want to know the best mattress for a trundle. The mattress recommendations provided for trundle beds are different according to each manufacturer and their designs.
Usually, the top bed is a standard Australian size mattress, depending on the design. The best trundle mattress is a basic foam, which is not intended or recommended for an adult or elderly person for longer periods.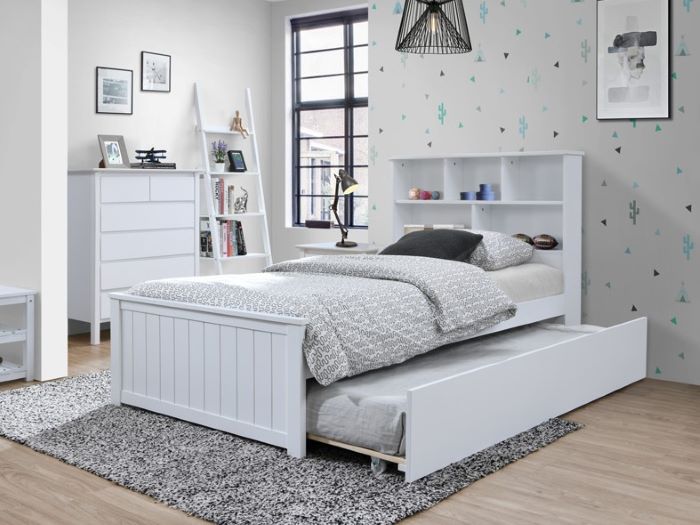 Myer White Single Bed with Trundle
ARE TRUNDLE BEDS COMFORTABLE?
You may be wondering, how comfortable is a trundle bed? This depends on the type of mattress you have, but in general we would recommend the use of trundle beds on occasion, and not for continual stretches of sleep. These beds are your best friend on a night when a friend or family member stays over. We can guarantee your guests will love to hear that they're sleeping on a bed rather than a squeaky blow-up or yoga mat.
KEY TAKEAWAYS
Steer away from making your guests sleep on the sofa or inflatable mattress and invest in a trundle bed! They're cost effective, space saving elements will have you recommending it to all of your friends and family. If you feel a trundle bed is right for you, check out our fabulous range at B2C Furniture and if you're in Melbourne come visit our furniture store in Dandenong (see you soon Sydney)!