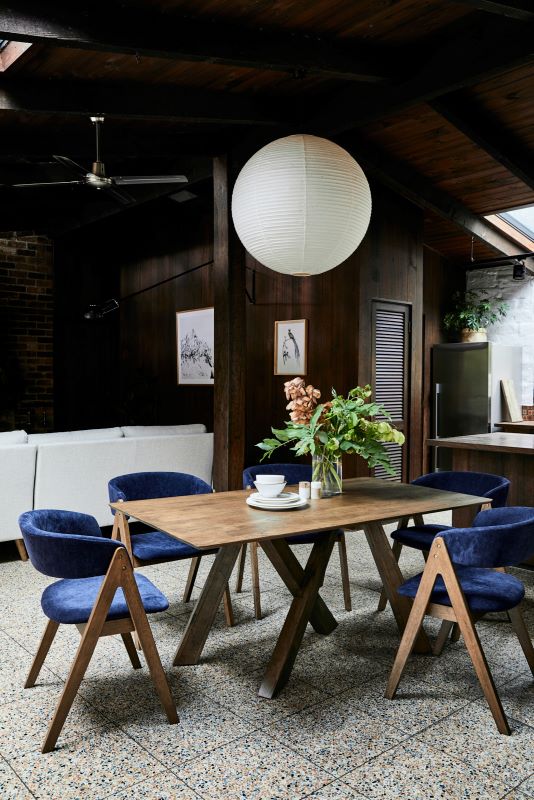 Gaudi 7PCE Hardwood Dining Set
HOW TO STYLE YOUR DINING ROOM ON A BUDGET
It is oh-so pleasant to walk into a space that evokes a feeling of nostalgia, tranquility, enjoyment - whatever those feel good feels are to you. Are you walking by your eating area looking at your dining room furniture and feeling, well… not much? We're glad you're here, we've got the hottest dish on how to design your dining room on a budget with sophistication just for you!
SELECTING YOUR DINING ROOM FURNITURE
If you're thinking "where do I start?" You're not alone! Before selecting your dining room furniture, it's super important to plan. I'm sure you want to dive straight into it, and if you're a 'go with the flow' kind of soul like me, this may not sound too appealing. However, a good design plan allows you to make use of your space to its utmost potential. You will find that your intentions will be met consciously, helping you stay on track with your desired budget. You'll nail eliciting those feelings you want to bring upon you and your guests when walking upon the space; awe, relaxation, sophistication…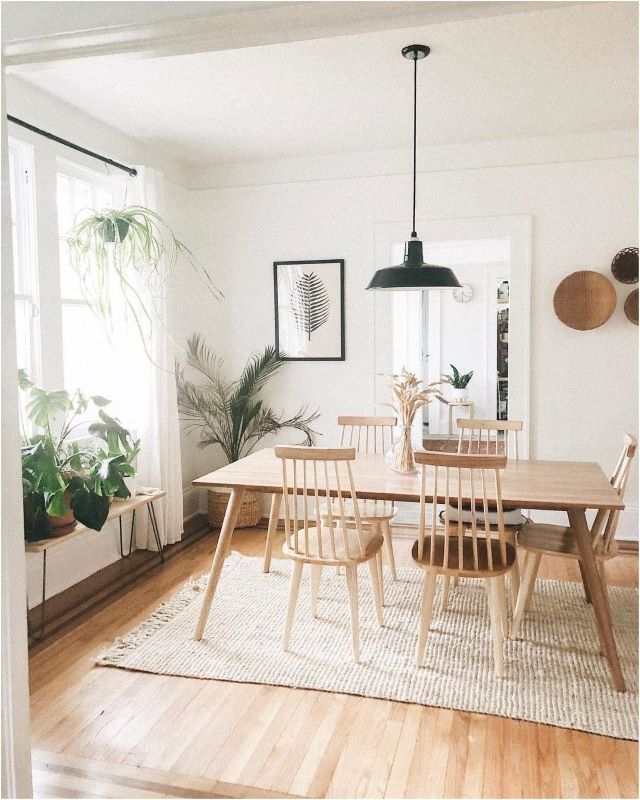 Source: www.pinterest.com.au
Observe the fixed items you have in the space which you'll need to work with - things like windows, doors etc. Then you can move to the focal point for the room - do you already have a statement piece you're working with, or are you going to incorporate a decorative item (pendant, statement table etc) for our point of focus?
Ways to plan:
~ M O O D B O A R D S ~
A fun and creative way to bring your room to 'virtual' life, great for those that like to visualise. Curate a collection of colours, textures, patterns and particular furniture pieces like modern dining tables or modern dining chairs - whatever inspires you for your project. Source from magazines, prints, swatches etc. If you prefer a digital board, there's Pinterest, Instagram, and blogs.
~ O B S E R V E & J O U R N A L ~
Start paying attention to your surroundings and their details when walking into different homes and spaces and note down ideas that inspire you or that you admire, if not already doing so. Even taking a stroll through furniture stores and mentally capturing ideas is fun! Easy way to stay on track for your budget too.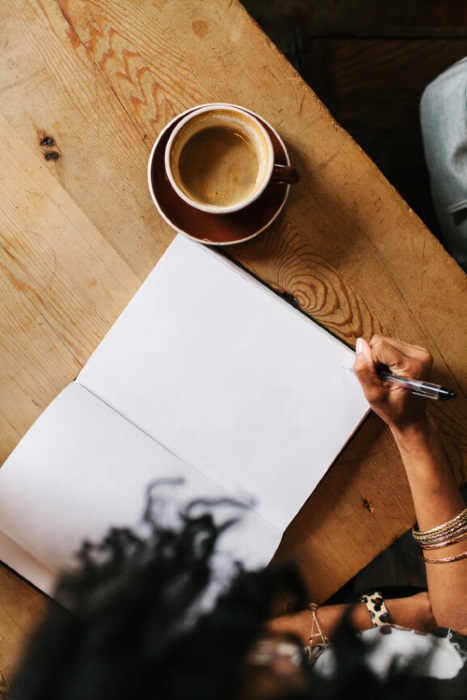 Source: www.pinterest.com.au
SMALL SPACE
Different styles of dining furniture cater to different sized spaces. A smaller space must be carefully composed as you don't want it to feel overcrowded. A round dining table is ideal in these kinds of spaces as they tend to cosily hug those tight nooks in small apartments. A nifty tip to remember is that a glass top dining table will always open up a space. If the idea of glass doesn't sit well with you, then you'll want to stick to a basic slimline table, something like the Claire Round Dining Table would be a great option
When it comes to dining chairs, it's important to stick to a petite, slimline style like our Bella Dining Chair. Steer away from chairs with a high back, as the height closes in the room and anything too chunky may be overpowering in a smaller space.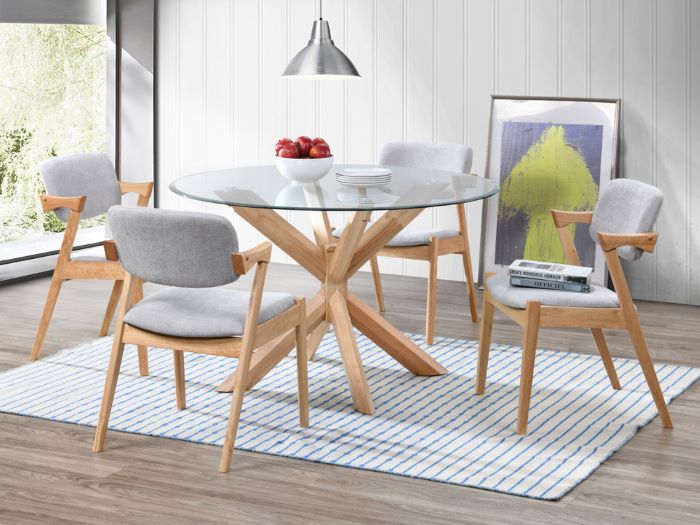 Bella Natural 5PCE Round Glass Dining Set
Keep the number of chairs to a bare minimum for daily use. By setting your dining table with only the number of chairs to people using the setting on a day to day basis, it is far easier to maintain a tidy area that doesn't feel too claustrophobic. Storing away some extra chairs in another room or cupboard, is typical practice for when guests come around and you need the additional seating. A clean, minimalistic space is always more relaxing and endearing.
Adding a bench to one side of a rectangular dining table (opposite to the a few dining chairs) will not only allow you to entertain more people but also be a unique and stylish addition to the space. Ideally find a bench size that can slide under the table and tuck away neatly to create more space when not in use.
Source: www.pinterest.com.au
L A R G E S P A C E
Working with a larger space opens up another realm of dining sets which we can choose from. But again you want to mindfully balance it out and thoughtfully tie your pieces together for a nice harmonious flow.A common misconception is that your dining set needs to be matchy matchy! This is suitable if you are trying to achieve a more formal feel. But for those who prefer a more trendy, casual atmosphere, pairing your dining table with chairs that are complementary, yet contrast in texture or colour is the perfect way to hit the in-vogue brief!
Let your heart roam free when choosing your dining table in a larger space. Think about how often you entertain guests in your home for dinner, which will play the most crucial decision making role. Then you should consider things like fixed statement pieces in the space. Different types of materials will evoke a different kind of feel and reflect different styles.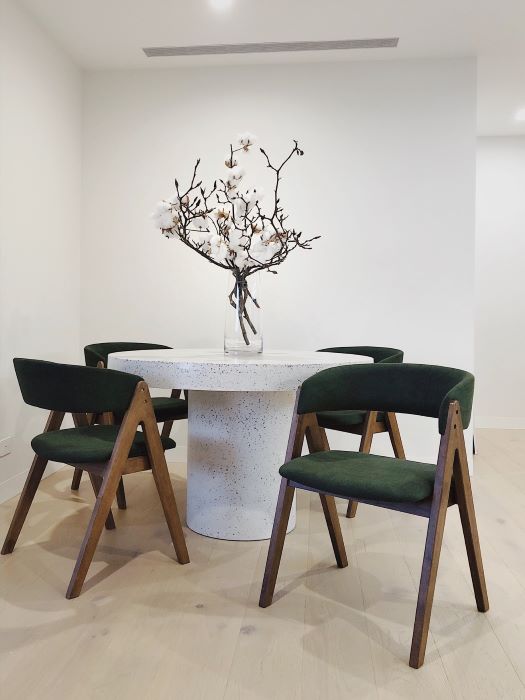 Gaudi Green/Walnut Hardwood Dining Chair
Organic elements such as timber are a warm and cosy material to introduce to your dining room. When matched with white, light airy colours you can achieve stylish looks such as the ever popular Scandi (our niche), Hamptons or the more recently found trend Japanese Zen relatively simply.. On the contrary, an industrial style will more likely incorporate black, darker colours with heavy materials such as metal/steel. A timber dining table is a nice touch to any home really. It's super diverse and sustainable – our Gaudi Dining Table can easily blend into a magnitude of different interior styles and with your own special touches, will adopt the character of your room with ease.
Remember, we don't need everything to match. So, when it comes to dining chairs, feel free to have a bit of fun with colour and style too. You want the dining table and chairs to complement each other like sisters and not twins.
Our range at B2C Furniture allows you to mix and match different dining tables and dining chairs, so have fun with it and cater it to your space and liking!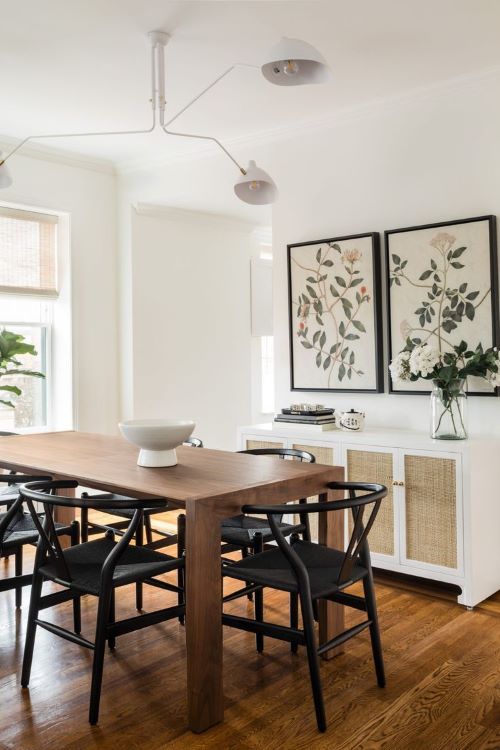 Source: www.pinterest.com.au
Need some storage in your dining room? Welcoming a sideboard into the space is the perfect way to store your party glasses and crockery out of sight (and harms way) as you go about your day to day life. If you're looking for either storage within the space or feel it would be a nice touch
Find that you have a dining set that you just don't want to get rid of? Maybe it was custom made to fit to your space, or holds sentimental value. Have a look at what materials your piece is constructed with and if they're modifiable you could take on a little project to restore it! This can be a super fun and cost effective option for your decking out your dining room. This is a big reason we're such big fans of hardwood at B2C Furniture.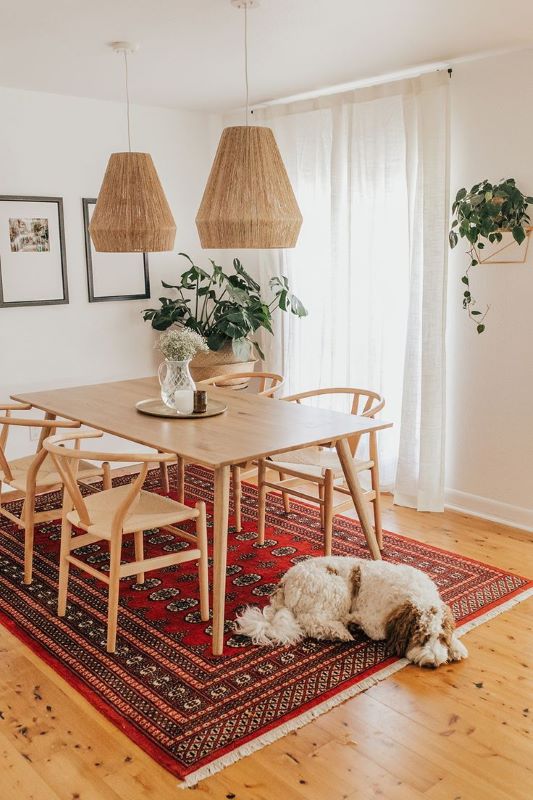 Source: http://livvyland.com
SIMPLE DINING ROOM DESIGN IDEAS
I'm sure you've heard that simplicity is key, but how do we do simple yet stylish without creating a boring space? Well, it's simple really. Simple touches that won't break the bank! Majority, if not all, additional pieces can be thrifted. This is not only cost effective but also a sustainable option - this way you're saving money and our precious planet – how good is that!?
If second hand items aren't your thing, then jump onto your device and start researching your options. Look at different brands that sell similar items and compare the price. Pinterest is an awesome platform for inspiration which can also take you directly to the supplier. Some of our favourites are Target, Pillow Talk and Etsy, where you can help support small business owners too - obviously a cause close to our hearts in this day and age.
If you want to keep it super simple and minimalistic with your furniture, below are a few decorative touches to spruce up the area.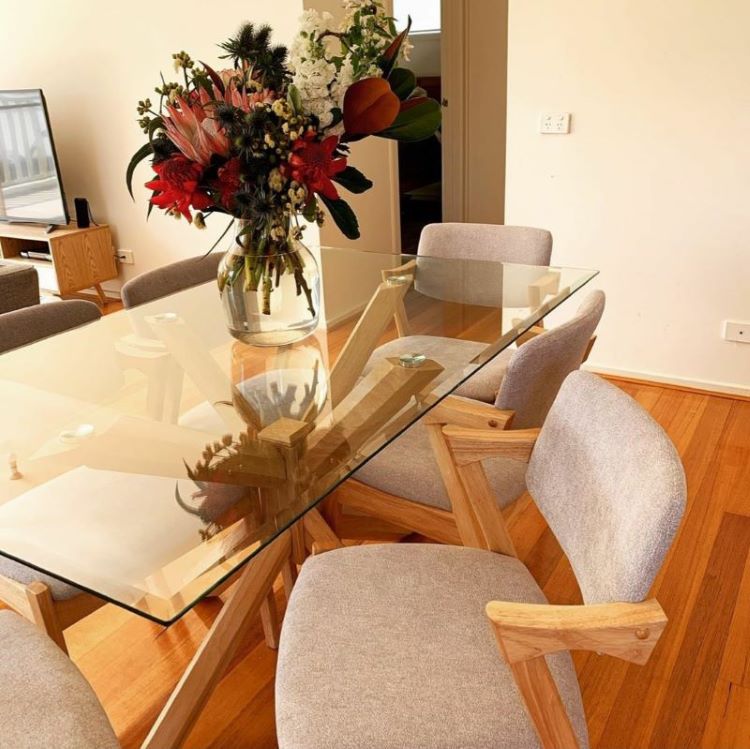 Bella Natural 7PCE Rectangle Glass Dining Set
4 SIMPLE WAYS TO ADD YOUR PERSONAL TOUCH
~ P L A N T S A N D F L O W E R S ~
Liven up a room creating a warm and inviting feeling. Bringing the outside in also comes with a bunch of health benefits. Definitely a favourite styling addition and an easy introduction of organic pop of colour which you may be lacking. No doubt they will bring a smile to your dial.
~ A R T W O R K ~
Choose items which evoke emotion, make you feel a certain way. You can choose one statement piece or a few smaller ones. Try to not over-do it, depending on the size of your wall and it's details. Bit of an avid traveller? Why not print off some of those spectacular landscape shots you captured in New Zealand, or the close ups of the Cathedral of Santa Maria del Fiore in Florence and have them framed. Cost effective and a great way to bring life to your room.
~ R U G ~
Fabulous way to add texture and/or pattern to what may feel like a fairly bland room.
~ L I G H T I N G ~
Allow as much natural light in as possible. Incorporating artificial lighting such as lamps and lights that can be dimmed, will easily create a sense of ambiance. Floor lamps are a big favourite of mine if it caters to your liking and space of course.
Source: www.pinterest.com
Pendants are a simple yet impactful touch to a space. Don't know what pendant to hang above a particular table without overdoing it? Simple. Round dining tables and a centered hung pendant light accentuate each other, same applies for a square dining table. As for a rectangular dining table, I recommend one statement piece centered above or running along the length of the table (one statement pendant light, or multiple smaller lights hanging in a row, will create visual interest). If you feel as though your dining table is the statement piece in the room, either stick to something simple pendant or avoid it all together.
CHEAP DINING ROOM DESIGN IDEAS
We've given you all the tips on styling your dining room, but let's bring your attention to the budget side of things. Where can you find these hot bargain priced pieces but still shop consciously?
Well the first is an easy one, right here at B2C Furniture. We don't mean to toot our own horn, but if you're looking for affordable, durable and stylish pieces we're the men and women for the job! The value for money paired with the standard of quality is second to none.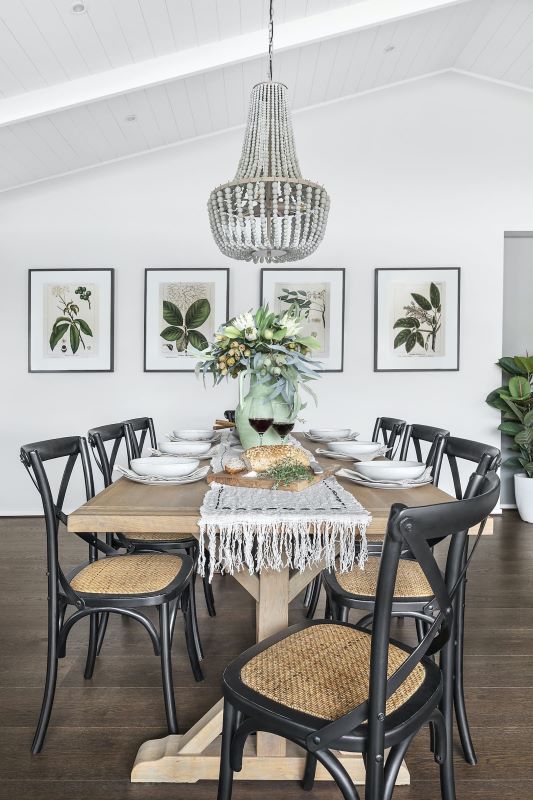 Source: www.tlcinteriors.com.au
As you may know, shopping around for cheap furniture can be easy these days, but the downside is not only that they are of lower quality but once they exhaust their lifetime (which is typically in a short timeframe) they end up in landfill and negatively affect the future of our planet, our home.
Hardwood furniture has its many benefits but can also be quite dear. Being a direct from manufacturer we offer stylish, hardwood pieces at an affordable price point.
If you're up for it, buying second hand furniture is another great, cost effective and sustainable option! You can find some really unique, one-off pieces out there for your home. Jump on marketplace or alternatively shop around in some thrift shops or markets – you'll be surprised as to what you can find (and the prices will shock you more)!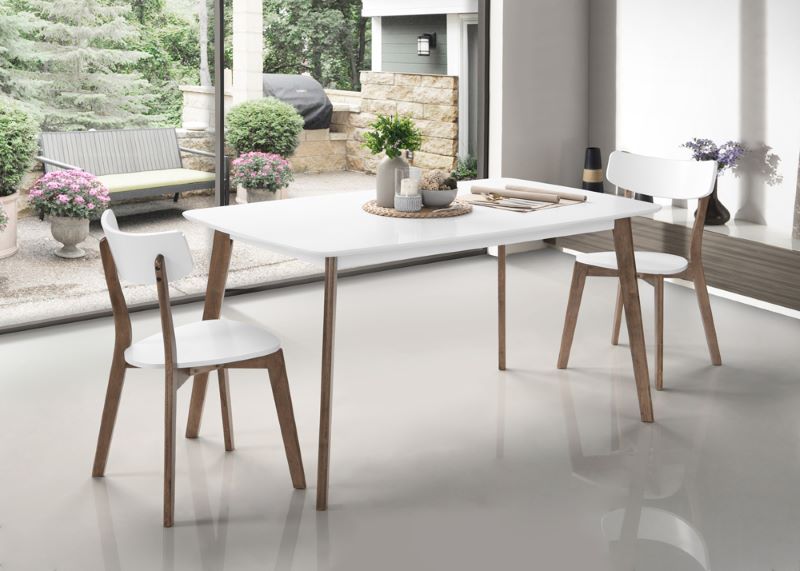 Claire 7PCE White/Walnut Rectangle Dining Set
AFFORDABLE SMALL DINING TABLES
Below are a few favourite affordable small dining tables B2C Furniture which are at a super affordable price - feel free to mix and match the dining tables and dining chairs to your liking:
CLAIRE ROUND DINING TABLE - Ideal for a smaller space with its slimline hardwood legs, perfect round dining table alternative to the glass top dining table with its classic white top. Choose from natural or walnut stained timber legs.
CLAIRE RECTANGLE DINING TABLE - If you're not after a round table but still want a space saving option, this is your guy. The lovely slimline hardwood framed dining table is an ideal size yet and can be easily matched into any space with the option of natural or walnut stained timber legs and classic white table top.
FINN RECTANGLE DINING TABLE - Our Finn dining table has a stunning natural timber table top and contemporary white legs. Its size and basic yet flawless design brings an organic, airy calm feel into a room without overpowering it. Think coastal calm!
BELLA ROUND DINING TABLE - Our ever so popular Bella round dining table is a showstopper. Its timber crossed-leg design brings you a mix of Scandi and sophistication, yet at a super competitive price all year round. The glass top opens up your dining room space, bringing upon a warm and inviting feeling. Your guests will be left oohing and aahing. Choose from natural or dark chocolate finish timber legs.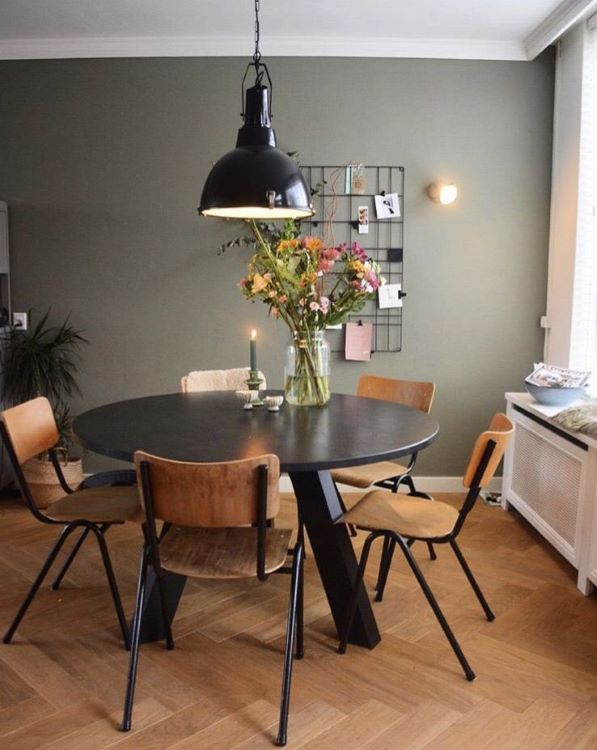 Source: www.pinterest.com
Timber is modifiable which is great if you have existing furniture that you can re-store or revamp. There are so many helpful DIY guides out there, or even ask your local Bunnings Warehouse for some advice. We love this option as it's super cost effective, sustainable and brings out a creative side which some of us just don't get around enough.
All in all, I hope that you are now filled with confidence and inspiration for your upcoming project. Ready to revamp your dining room with sophistication, but without the brain-wrecking and bank-breaking moments! We are proud to stock a range of affordable dining sets all year round and by offering hardwood furniture we hope to help save our future and your pockets. Visit us at our furniture store in Melbourne at 94 Frankston Dandenong Road, Dandenong South, or place an order online!