Considering we spend over a quarter of our lives in bed, buying the right size bed for you and your loved ones is an important life decision. Not only because we all deserve a great night's sleep, but research shows that sleeping in a comfortable bed, night after night, can improve our health. If you know a single bed is out of the question and a double bed frame is too small, it's time to decide between a queen-size or king-size bed. Perhaps you're set on the mattress but need help choosing the best frame and bed head to suit your bedroom's style. This guide discusses the differences between a king and queen bed and how to choose the best bed to suit your budget, room size, and lifestyle. Regardless of your personal preferences and needs, selecting the perfect bed frame and supporting mattress can save you time and money in the long run.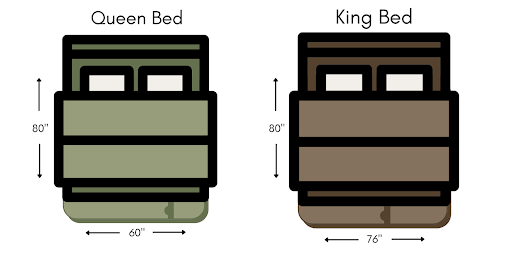 What's the difference - King vs Queen Size Bed
When comparing the differences between a king and queen size bed, the distinguishing feature is width. Both the mattresses share the 203cm length (80 inches). A standard queen-size mattress is 153 cm wide (60 inches), whereas a standard king-size mattress is 183cm wide (76 inches), an additional 30cm or ruler length for a visual comparison.
King size bed vs queen size bed
| | | |
| --- | --- | --- |
| | Queen | King |
| Mattress Dimensions | L 203cm x W 153cm x H 30cm | L 203cm x W 183cm x H 30cm |
| Bed Frame Dimensions | L 212cm x W 165cm | L 212cm x W 198cm |
| Ideal room size | 3.2 m x 3.0 m | 4.2 m x 3.9 m |
| Price | Moderate | Premium |
| Suitability | Kids, teens, adults and couples with smaller bedrooms | Adults and couples who prefer a more spacious bed and bedroom |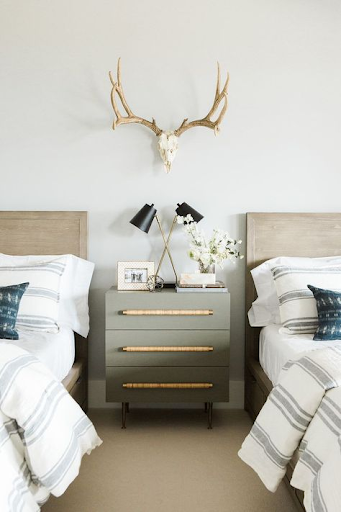 (via Pinterest)
Best room size for queen size bed
Although smaller than a king-size, our queen beds offer an affordable upgrade from a double bed. Our queen beds frames are 212cm long and 165cm wide, ideal for a standard bedroom of 3.2 x 3m, allowing enough room for a side table or chest of drawers between the bed and walls.
Best room size for king size bed
Although you may desire the extra arm span a king-size mattress offers, you need a bedroom with adequate space to fit the 212cm long and 198cm wide bed frame. The master bedroom, usually 4.2m x 3.9m, is likely the most suitable option. Ideally, you'll want to leave at least 60-90 cm between the bed and three walls to allow for bedside tables, chest of drawers and other bedroom furniture.
Cruz Hardwood King Size Bed Frame | Rustic Walnut
Considerations when comparing king vs queen size beds
If you need a wider mattress, then a king size is the obvious choice. However, like any purchase, there are other factors to consider before making your decision.
Price
If you're looking to invest in a king-size bed, you'll most likely need a higher budget, as the extra width comes at a cost. A queen bed make a great option when you need an affordable upgrade from a double bed. The mattress composition and brand will impact the price, not just the size. It's also important to factor in the cost of bedding, with king-size bedding generally being more expensive than queen bedding.
Comfort
While choosing the right size mattress is essential, the type of mattress is equally important. Whether you prefer pocket springs, memory foam, or a pillow top, remember that you may need to compromise on the exact mattress type to get the size you need or can afford.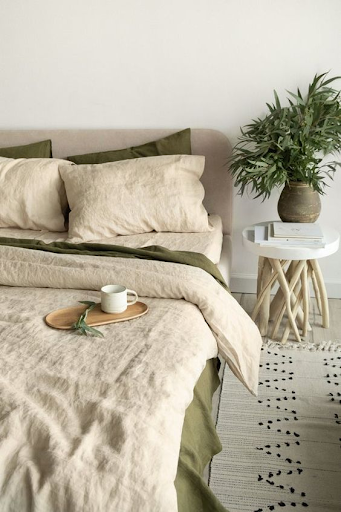 Via Pinterest
Height
Although the king and queen size beds share the same length, choosing a king-size bed can be a wise decision to provide the option of sleeping slightly diagonal without interrupting your partner's rest.
Single or couple
Generally speaking, if you're a solo sleeper, you may not need the extra width of a king-size bed. If you're in a couple, you'll either prefer snuggling up in a queen size bed or the extra space of a king to avoid waking each other up and staying cool on those hot summer evenings. It's not just a partner to consider. Perhaps you have children and pets who also like to share your bed, in which case the extra space will come in handy.
Movability
Whether it's for work or your personal preference to move house regularly, you may require bedroom furniture that's easy to pick up, carry, and store. A queen-size bed will be lighter and more compact, making it a better option than a king-size bed.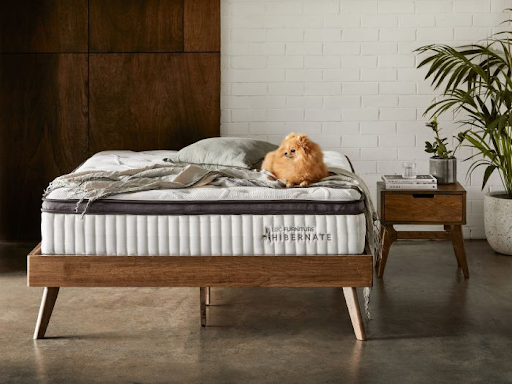 Complete the Set
Once you've settled on the best mattress size for your space, complete the look with a quality hardwood bed frame. Our range of handmade king-size bed frames provides a solid base to guarantee restorative sleep. If you need a cost-effective bed frame to style the room, our queen size bed frames offer extra space with a reasonable price tag.
When to buy a king size mattress
While it's a no brainer, king-size mattresses will provide a more spacious sleep than a queen. You'll also want to consider a king-size mattress if you have a large bedroom to fill, have kids and pets that love to make your bed theirs, or are a solo sleeper who loves to sprawl out across the sheets.
When to buy a queen size mattress
Queen size beds are a great option when you're looking to upgrade from a double but aren't ready to invest in the price tag of a king. It's also perfect for singles or couples that love to snuggle in their sleep.
Buying the best mattresses size
Regardless of your decision, our range of king and queen size mattresses offer style and comfort. If you need help deciding, check out our Australian bed and mattress sizes guide, or visit your closest showroom to feel the difference yourself.