Minimalist design is about harmony.
It follows a "less is more" approach to create serene, calming spaces that can help us cope with an overwhelming world. Minimalism appeals to people who like functional design, clean lines, less clutter, and classic colour palettes. Creating a minimalist home helps to simplify our lives, and what better room to start with than our sanctuary – the bedroom?
A minimalist bedroom is achievable for a family with children, a couple living together, or even a person living alone. Read on to learn about minimalist furniture, smart storage solutions, and a calming colour palette that will turn your bedroom into a minimalist masterpiece. Because this design aesthetic looks different for everyone, our article discusses minimalist bedroom ideas that you can adapt to suit your living situation and style.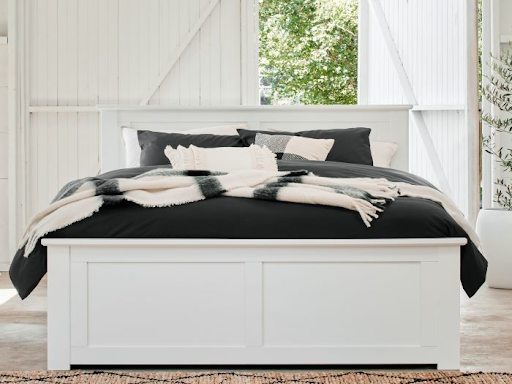 Minimalist Colours and Textures
Minimalist design is not about creating a sterile or cold environment. Nobody wants that for their bedroom!
Colour and texture are minimalist bedroom essentials. Sculptural forms, clean lines, and a limited colour palette will help you achieve a minimalist design for the bedrooms in your home.
Here are five ways you can use minimalist colour choices and textural items to add depth and warmth to your bedroom:
Neutral or monochromatic colours are essential for a minimalist bedroom. Neutral shades such as black, white, and grey are classic minimalist colour choices. Earth-tone neutrals, such as taupe, beige, and cream, work well with timber minimalist furniture. These colours also help create a sense of tranquility that is perfect for the bedroom. A monochromatic colour scheme uses one colour in different tones. Choose a base colour and accent it with darker and lighter tones of that same hue to create a minimalist colour scheme for your bedroom.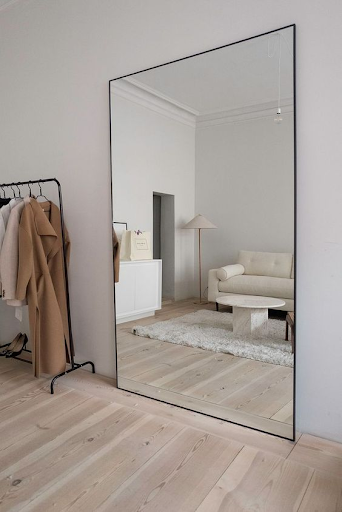 (via Pinterest)
Natural light is essential in any space. It reflects off the neutral walls and creates a more open and spacious feeling in the room. Finding a suitable window dressing with a minimalist design that allows for natural light, privacy, and insulation can be tricky. A sheer curtain in front of a block-out blind fits the brief. It allows for natural light, added privacy, and is a soft textural element for your room.
Textured rugs are functional if you have timber or concrete floors in your bedroom. For a child's bedroom,

floor rugs

in neutral tones

with creative designs add personality while still maintaining your minimalist goals.
A plant adds a pop of colour and a bit of life to any room. Choose a plant with clean lines and simple colours but be mindful if you have pets. Some popular ornamental indoor plants, such as the Ficus (also known as the Fig Tree), are toxic to all cats and dogs.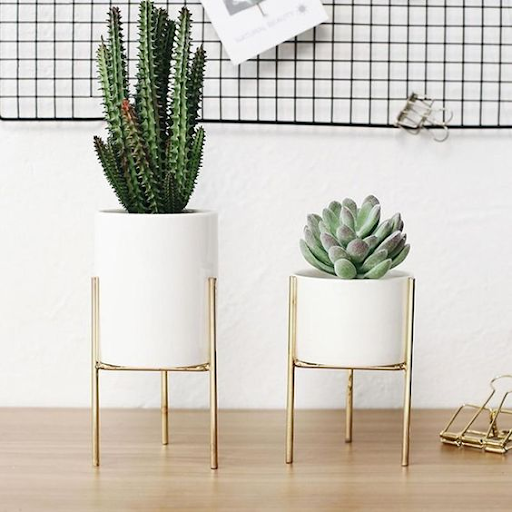 (via Pinterest)
While bare walls maintain a streamlined, clutter-free look, a carefully chosen piece of artwork or photo can add texture, colour, and personality to your bedroom. A mounted painting or cherished photo is something unique to admire in a neutral room.
Minimalist Bed Frame
Your bed is the focal point of your bedroom.
A minimal bed frame will not have oversized features, such as a bulky footboard or built-in bedside tables. If you are searching for a minimalist bed frame, you want a bed base. A bed base made from wood, with a sleek silhouette that sits low to the ground, is one of the most crucial minimalist bedroom essentials.
A platform-style bed base is the trademark feature of a minimalist bedroom. A sustainable, solid wood bed base gives you the style you want and allows you to sleep soundly, knowing your minimalist aesthetic hasn't cost the earth.
A headboard is not a standard feature of minimalist bedroom design. Still, a slimline upholstered bed head in neutral tones can complement your bed base and add a subtle texture feature to your room.
Minimalist Bedroom Storage
Multiple, clunky drawers add bulk and clutter to your room. They cramp your space and distract you from the aesthetic you are trying to create.
But even minimalists need storage! So, what to do?
Minimalist bedroom storage should be understated and elegant. A low chest of drawers made with quality hardwood timber fits the design brief. A set of matching bedside tables with a drawer for personal items creates a cohesive look.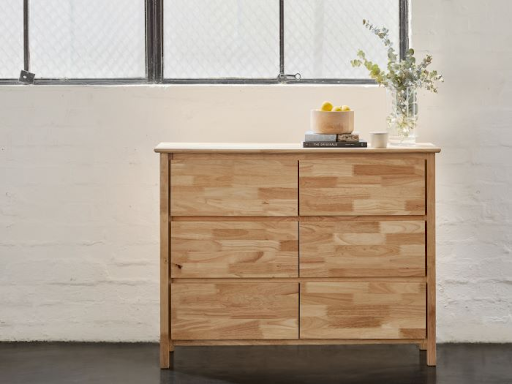 The key to having a minimalist bedroom is to prioritise your possessions first. Sort through your bedroom items thoughtfully and keep only those that matter. Minimalism is about streamlining and simplifying. You can still inject personality into your sleep space with clever storage and carefully curated collections of your most treasured items.
Here is how to make your room look minimalist with three simple storage solutions:
Aim for clothing (outside of your wardrobe) to fit in one chest of drawers or tallboy

Display any sentimental items on one shelf

Store any technology and your current read in the bedside table drawer
Modern bedside tables in timber tones paired with a hardwood timber chest of drawers add sophistication and style to your bedroom. If you have a larger room, you can choose a tallboy instead of a set of low drawers. If it is functional, carefully crafted, and stylish, it fits the minimalist design brief. The sustainability aspect of the hardwood used is a bonus.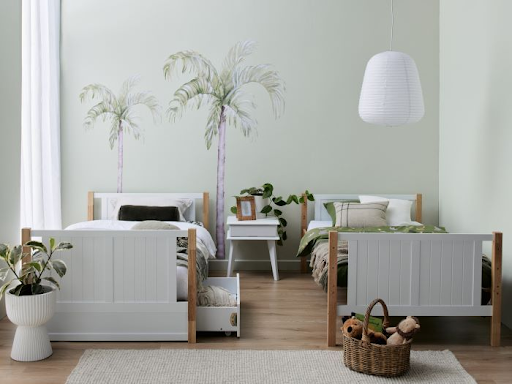 Our Myer King Single Bunk Bed with Storage
Believe it or not, children can also have a minimalist bedroom! If you're tired of tripping over toys and clothes on the floor, some minimalist bedroom ideas for your children's room include:
minimalist furniture

choices that showcase clean lines, such as hardwood

kid's beds

with low-height footboards and storage underneath

beautifully crafted

modern kid's bedside tables

, with a roomy drawer to store their knick-knacks

textured floor rugs

to offer a comfy place to play
The first step of your bedroom makeover is to declutter first. Then, with carefully chosen minimalist bedroom storage, everything that is important enough to keep or display will have a place. Create harmony in your life, one room at a time.
Contact us today or visit one of our showroom locations and choose from our range of quality hardwood furniture that will inspire your minimalist bedroom masterpiece.