Do you want to rejuvenate your tired-looking bedroom?
A headboard is an easy way to change the style of your bedroom without costing a fortune. Headboards are multifunctional and add a sense of luxury to your sleep space. However, if you have a small room, a headboard may cramp your style. This article looks at the pros and cons of headboards in the bedroom, factors to consider when choosing one and how to install them.
Before we go on, here's a quick heads up – 'headboard' and 'bed head' are the same thing. For example, when you see the term 'queen bed head,' we aren't talking about a queen who woke up with a bird's nest for hair. We're talking about our range of luxury bed heads and headboards that will elevate your queen bed to the next level.
Are you ready to rock a bed head? Do you need a headboard? Read on, and let's find out!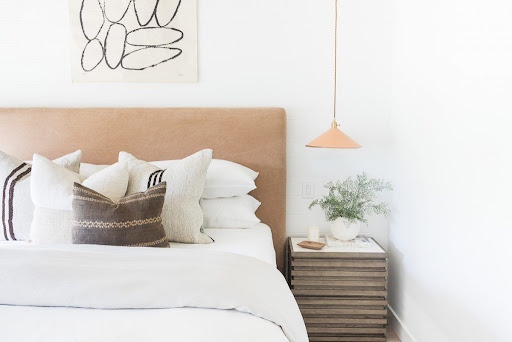 Pinterest
What is a bed head?
Put simply, a bed head is a barrier between your bed and the wall.
Originally, a bed head's purpose was to keep people's heads from getting cold through the poorly insulated walls of the past. Modern bed heads do more than this. A sustainable hardwood bed head, upholstered in eco-friendly fabric, will also:
add style and luxury to your bedroom

prevent wall damage

support your back if you sit in bed to read
On a lighter note, what is a bed head's most important job? To stop your pillows from falling behind the bed during the night!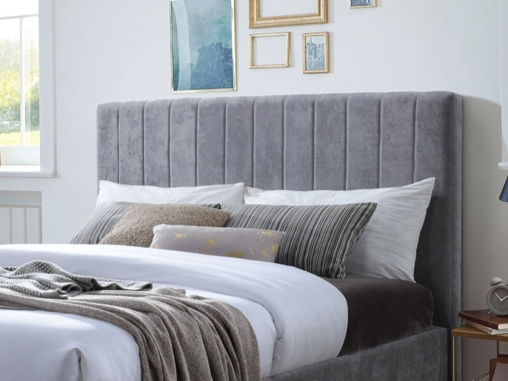 Cannes Double Upholstered Headboard | Grey
Factors to Take into Consideration
When choosing a bed head for your room, there are several factors to consider. Here are some considerations and our ideas to address them.
If you want to make a statement in your bedroom, choose an unexpected colour. The Cannes Queen Upholstered Headboard - a headboard fit for a queen in olive green – brings balance and harmony to your room but still draws the eye with its dramatic flair.
Do you need a bed head that blends in? Choose a soft neutral shade or colour you already have in the existing décor in your room. Our range of bed heads in contemporary colours, for both queen and double beds, work well in bedrooms with natural tones.
Would you like to complement your existing colour scheme? The Cannes Double Upholstered Headboard in soft beige is the MVP of bed heads as it suits all colour combinations.
If you have bedside tables, you will need a bed head that doesn't make your room feel cluttered. The size of your space is also an important consideration. Check the ceiling height, the width of your room, and the size of your bed before choosing your new headboard. If you have a small space, choose a bed head in beige or soft grey to minimise its visual impact.
We stock a variety of slimline freestanding luxury bed heads, and headboard and bed base bundles to take the headache out of choosing a bead head for your room.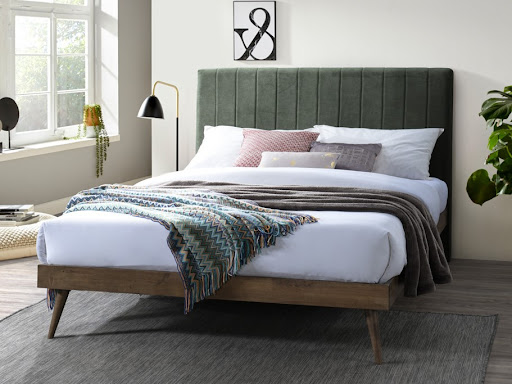 Franki 2PCE Queen Headboard and Bed Base Bundle | Walnut & Green
Headboard vs No Headboard
Now that you understand the purpose of a headboard, it's time to look at the pros and cons of having one in your room.
Pros of having a bed head
Here are five reasons to have a headboard in your bedroom.
A bed head will frame your bed and complete the look of your room.

A headboard acts as a backrest if you're a night owl who likes to read in bed. An upholstered headboard is even better for back and neck support – to lean against directly or pile pillows against for added comfort.

A headboard stops your pillows from hitting the deck during the night. This can improve your sleep quality as you're not waking in the night frantically searching for pillows. And we all know how important sleep quality is to ensure a happy start to the next day.

A headboard protects your wall from damage. If you toss and turn at night, the edge of your bed will rub against the wall, causing dents and scratches. A headboard protects your walls from damage and stains. This is especially important if you are in a rental property.

A bedhead can keep the cold away, particularly if your bed is against a window or external wall, as it provides an extra layer of insulation. You can reduce the chances of waking up in the night with chills by adding a headboard to your bed.
At B2C Furniture, we stock upholstered headboards made with sustainable hardwood timber frames. An upholstered headboard:
is soft, comfortable, and makes your bedroom feel cosy

offers cushioned support if you watch TV or stay up and read in bed

looks inviting

can be the standout feature in your room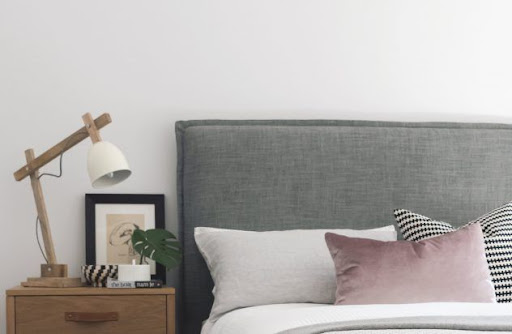 Pinterest
Cons of having a bed head
Here are three cons of having a headboard in your bedroom.
A bulky bed head can take up much-needed floor space in your bedroom and make it feel claustrophobic. A slimline bed head is a solution to this problem.

As well as floor space, headboards can take up wall space that you could use for shelves, lighting, or artwork.

An upholstered bed head requires regular cleaning (but we've got you covered – see below).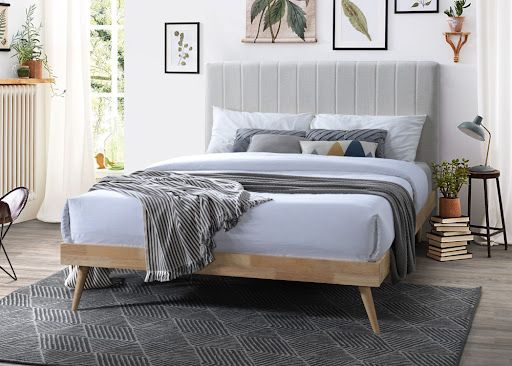 Franki 2PCE Queen Headboard and Bed Base Bundle | Natural & Beige
How to Attach a Bed Head
While choosing between a headboard or no headboard may be difficult, learning how to attach a bed head is easy.
A B2CFurniture headboard comes with an easy-to-follow assembly guide. You simply join it to the bed base with a few screws to keep everything securely in place.
To maintain the quality of your upholstered headboard, scotch guard the fabric, vacuum it regularly and blot any spills immediately.
Visit our showrooms in Melbourne and Sydney if you want sustainable and stylish bedroom furniture, including luxury double and queen-sized bed heads, or headboard and bed base bundles. Or shop online to create a bedroom tailored to your personal style that doesn't cost the earth.