While you'd be forgiven for thinking coffee and side tables are the same, they are, in fact, different. However, both are essential within your living room furniture to create a comfortable lounging experience. Selecting your perfect coffee and side tables will depend on your interior design preferences and how you use your living room. There's timber, metal or glass to choose from, and that's just the materials; you also have to consider size, shape, and design. Perhaps you'll transition from the traditional matchy-matchy coffee table and end table set and opt for unique pieces; in that case, following this guide to mixing and matching coffee and side tables will help achieve your desired look without overwhelming the senses.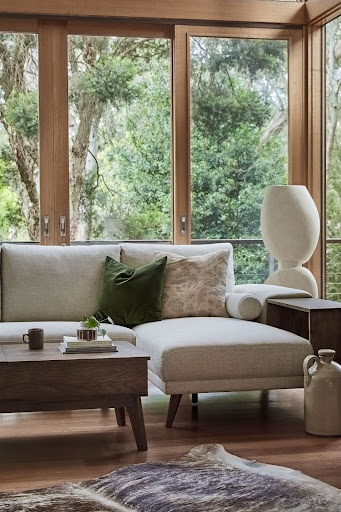 How to choose a coffee & side table
How do you use your coffee table? Is it proudly displaying your favourite magazines? Is it a resting place for glassware before reaching the sink? Or is it purely aesthetic, constantly clean and empty? However, you use or don't use your coffee table, picking the right piece can aid or hinder how you spend time in the living room. There's the sofa height to consider, the distance from the said sofa, and that's before you even think about the shape, design and materials. We'll delve into the essential decisions to find your perfect coffee table with complimenting side tables. Get your Pinterest boards ready; it's time to indulge in a healthy dose of interior stalking.
1. Factor in the Space
Whether it's finding the perfect foot resting distance or glass placement, with an uninterrupted gaze, you'll first need to dust off the tape measure and write down some measurements:
The distance between the sofa and TV wall

The height from the floor to the seat of the sofa

The height from the floor to the top arm of the sofa

The length of your sofa, from arm to arm
Now, using these measurements and general rules of thumb, you can calculate your table dimensions:
The

coffee table

should be 5cm lower than the sofa seat

The length of your coffee table should be ⅔ the length of your sofa

The width of your coffee table should be ⅓ the width of your sofa

The side table should be 5cm lower than the arm of your sofa

The side tables should be ⅓ the size of your coffee table

While these are helpful tips, they are only general rules. Let's say, for example, you have a larger living room where the distance from your couch to the tv would result in an unpractical coffee table size. Using an area rug can help define the space and determine more realistic furniture dimensions. In contrast, a tiny room may require clever design hacks like stackable coffee and side tables or perhaps only having a coffee table to complete the look.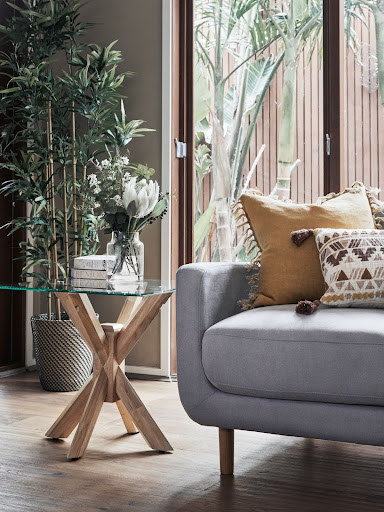 Bella Coffee Table (Natural)
2. Define the interior design style
Your tables could be asymmetric, sculptural, or round, depending on your interior design. Some styles have rules on the materials, textures, and shapes required to achieve 'the look', whereas others provide more flexibility. For example, mid-century modern and Scandinavian carefully balance a mix of sleek timber pieces with soft curves and clean lines. An industrial or contemporary living room will feature marble, steel or glass tables, and then there's eclectic, a bold aesthetic that mixes shapes, materials and textures; organised chaos. Whichever style you adopt, mixing coffee and side tables are a great way to experiment with designs and showcase your personality. Just remember that finishing any design requires soft furnishings like vases, coffee table books, and candles, so choosing a large enough table to avoid clutter and remain a functional piece of furniture is essential. After all, moving these items around and presenting them proudly on the coffee table is one of the easiest and fun ways to add character.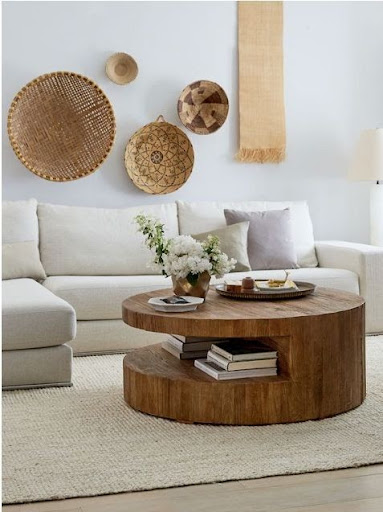 Source: Pinterest
3. Add Contrast
Again, it will depend on your design style; however, the experts recommend contrasting coffee and side tables with other living room furniture. The best interior design relies on contrasting elements to build depth and avoid that flat feeling. Contrast comes in many variations; it could be feminine versus masculine, ornate versus plain or organic versus geometric. Whatever contrasting elements you decide on, a good starting point is working off the existing furniture in your space and adapting accordingly. If your couch is angular and square, you might add depth by introducing a rounded table. Similarly, if your Entertainment unit is a lighter stained timber, introducing a darker stained Hardwood side table can help break up the room. Play around with different shapes, textures and materials; as long as they share one commonality, the space will look inviting.
4. Unify with a common element
While mixing and matching furniture is essential to create depth, having too many different elements can quickly overwhelm and confuse the space. This is when less can most definitely be more, and in the case of mixing coffee and side tables, we recommend unifying with one common element. They could be the same shape with different textures or the same material of various forms. Either way, remember you play around with different variations until you achieve your desired look. And, if you're a design novice, choosing a living room package where the furniture has already been curated for your style might be more manageable.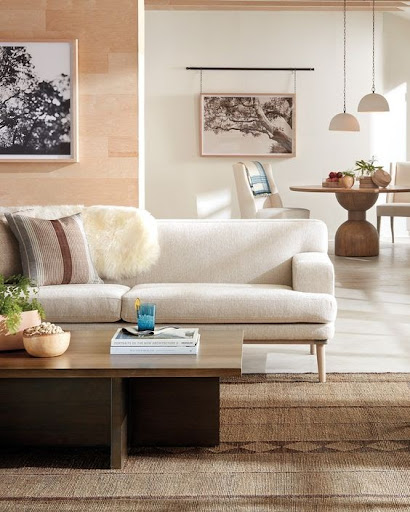 Source: Pinterest
Buying a coffee and side tables
By now, you'll know your living room isn't complete without a coffee table and side table. However, deciding on matching tables or mixing shapes, materials and textures will depend on your personality. If you choose to mix and match, following this reliable guide will help create the most enjoyable living room experience for your needs.
If you'd like to know more about mixing and matching coffee and side tables, get in touch today with our friendly team of professionals.