Has your loan or tenancy application just been approved for a rental property? Congratulations! Whether you're leasing short-term, long-term, or purchasing an investment property, you'll need to turn that house into a home. Continue reading for some practical tips from B2C Furniture's style gurus on how to choose the right furniture for your rental property.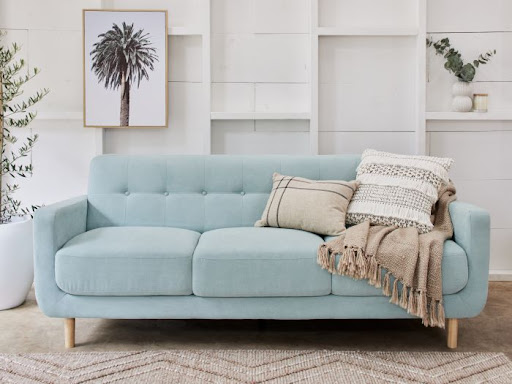 Bella Three Seater Sofa | Couch | Aquamarine
Should You Furnish Your Rental Property?
If you're thinking of subletting, you might be wondering if you should furnish your rental property. A furnished property can be sublet at a higher rental price, and often appeals to short-term or holiday renters as well as executives and long-term renters of a younger demographic. The main drawback of furnishing a rental property is the risk of damage. To ensure your furniture is maintained properly, you can include a clause in your rental agreement and choose pieces that are stain-resistant and made from durable materials.
To avoid the hassle of selecting complementary furniture, you can purchase furniture packages for rental properties, which are typically coordinated by style and are relatively cost-effective. As an example, B2C Furniture offers quality hardwood furniture packages for bedrooms, kids' and babies' rooms, living rooms, and dining rooms.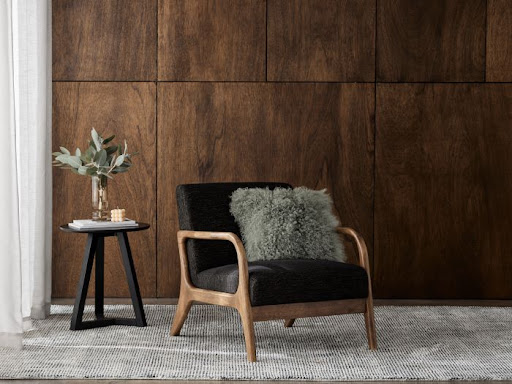 Paris Black Occasional Chair | Walnut | Hardwood Frame
How Much Does it Cost to Fully Furnish a Rental?
So the big question, how much is this going to cost? Having an understanding of the furniture you are purchasing, and what you need to complete the home will come in handy when budgeting. Think about your space: How many rooms do you have, and how big are they? What are the dimensions? Make a list of the essentials for each room.
Something to keep in mind whilst shopping: The cost of furniture can vary depending on the materials used in the manufacturing process. 'Fast furniture', which is mass-produced from low-cost, poor-quality materials, generally comes with a lower price-tag, but also with a shorter lifespan. Hardwood furniture on the other hand, will have a higher price point, but is produced ethically, with quality materials and made to stand the test of time - Actually saving you money in the long run!
When purchasing high-quality hardwood furniture, you should expect to spend about $3000 for a studio and around $7000 for a two-bedroom apartment. To fully furnish a larger property like a townhouse or a detached house, be prepared to spend at least $15,000.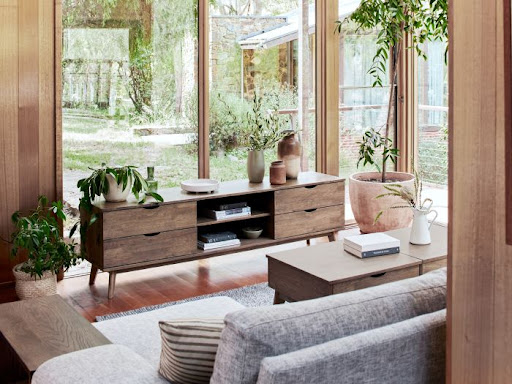 Paris Hardwood TV Unit | Entertainment Unit | Walnut
Furnishing a Home Checklist
A checklist can save you time and money. Think about the furniture you already have for your rental property, and what you still need to purchase. The following checklist will help you decide where to invest your money, and how to create a space you (or your tenants) will love coming home to.
Living room
For the social hub of the house, you'll need a few basics to start with:
Sofas - Depending on the size

of your space and its intended use, you can choose either a 2-seater, 3-seater, or larger modular.

Coffee table -

Large enough to store and display all the essentials (e.g. TV remotes, snacks, and drinks), but shouldn't overwhelm the room.

Side table - Perfect for a lamp, smaller decor items, or even just for a convenient place to set down your cuppa.

Entertainment unit

-

Take note of the dimensions of your television and space when choosing an entertainment unit. Opt for a design that incorporates storage if you're space savvy!
Cozy things up with a few finishing touches like an accent chair, a rug, and a floor lamp. Create a moody atmosphere with darker fabrics and wood, or give your space a light and airy feel with a neutral colour palette and glass-topped pieces.
For convenience and stress-free styling, B2C offers a range of cost-effective, sustainable living room packages to suit different aesthetics, and have all the essentials to get you started. Alternatively, build your own package with our versatile and cohesive pieces that can be easily mixed and matched.
Soho 5PCE Hardwood Dining Set | Walnut | Beige Fabric
Dining furniture
Make mealtimes memorable with the right furniture! Some consider the dining room to be the heart of the home, so make sure yours is functional and inviting.
A dining table - Everyone knows the dining table is the focal point of the room. Consider choosing a shape that compliments the space and will fit your needs. A round dining table may be better suited to smaller spaces, while a larger rectangular table can help to fill a larger space and is perfect for larger families.

Dining chairs - Dinners can sometimes get messy, especially when there are little ones involved! It's a good idea to select chairs that are durable and easy to maintain. Rest assured, we have got you covered with a collection of dining chairs made from sustainable hardwood to offer longevity and eco-friendly fabric choices that are comfortable and durable.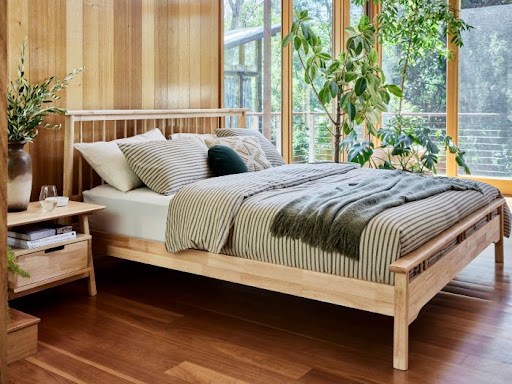 Rome Hardwood King Size Bed Frame | Natural
Bedroom furniture
Relax and unwind in your personal haven. Every bedroom begins with the basics:
A bed frame/base: If you are somebody who likes to change their style often, we suggest going for something that is versatile and can adapt to different trends. Look for cost effective solutions like hardwood frames or

bed heads

and

bed bases

in neutral colours.

Bedside tables: Perfect for your alarm clock, Kindle, phone/tablet, and a reading lamp.

A chest of drawers: Create extra storage for clothes and accessories, and display your bedroom decor on top.
For your kids' room, inject a little fun. Go for a thematic bedroom set that showcases their interests and hobbies. Shop for:
Kid's beds: Help keep all those runaway toys and throw cushions neat and tidy with underbed storage options. For shared rooms consider space saving

bunks

,

loft beds

,

stackable bed

or

trundle bed

options.

A tallboy: To manage their ever-evolving wardrobe, store their extra clothes in a tallboy.

Kids' bedside tables: Keep their nightlight, books, journal, and decor within easy reach.
If you're looking for stylish furniture for your bedroom or kids' room, consider B2C Furniture's range. Made from sustainable and durable hardwood, we offer: bed frames and all inclusive bedroom suites in single, king single, double, queen and king size.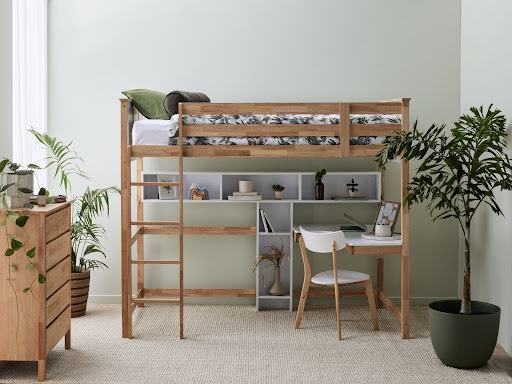 Buddy King Single Loft Bed with Desk and Shelves | Natural Hardwood Frame
Outdoor furniture
Host family and friends or retreat to your own personal oasis for a little rest and relaxation.
Outdoor seating - Add an outdoor lounge and a couple of armchairs for extra seating, throw in a coffee table, and an outdoor rug; and you've got yourself the ultimate chillout pad!

Alfresco dining - It's no secret Aussies love a good BBQ to bring everyone together. If you love entertaining, then an outdoor dining table and chairs are a must have!
To withstand the harsh Australian climate, our range of outdoor furniture is made from durable, eco-friendly timber and includes: outdoor tables, outdoor chairs, outdoor lounges, outdoor hammocks and hanging chairs, and outdoor coffee and side tables.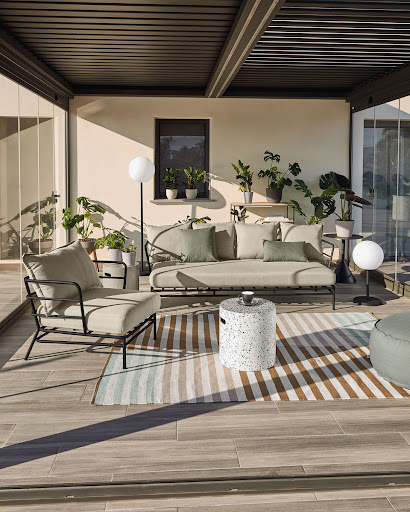 Let B2C Furniture Guide You Home
Still feeling a little overwhelmed? We're here to help! Get in touch with us to chat with us for all your home furnishing needs. Bring life to your space with B2C Furniture's eco-friendly timber furniture; choose from standalone pieces or complete your space with an all-inclusive furniture package. Let your rental property pay for itself with stylish, sustainable, and long-lasting furniture!