Moving day is finally here. After years of scrimping, saving, and putting in overtime, you've finally secured the home of your dreams. You stand by the side of the road and watch as the moving van pulls away and rumbles down the street, carrying the bare-minimum items you've accumulated over the years. It can be tempting to race off to your nearest Homemaker Centre and splurge on a houseful of new furniture - but before you spend all that hard-earned cash, take a moment to get organised. Put the kettle on, kick your feet up, and delve into our helpful First Home Checklist.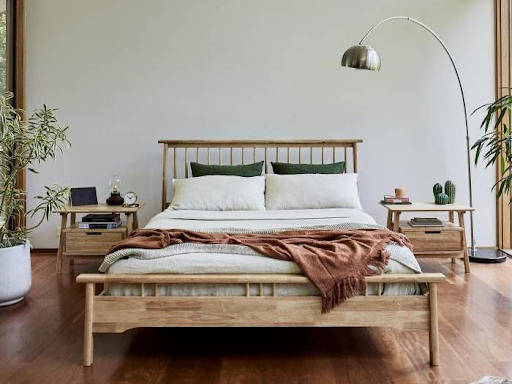 Rome Hardwood Queen Size Bed Frame | Natural
How Much Does Furniture Cost for a New House?
To manage your budget effectively, it's helpful to know the approximate furniture cost for a new house. First off, you'll need to dust off that old measuring tape and size up your new pad. Once you have the dimensions of your rooms, you can start to think about layout, style, and pricing. This is where the fun really begins.
Do you dream of the French countryside; a house filled with rustic antiques, patterned rugs, and elegant tapestries? Or are you a fan of the minimalistic Scandinavian style, with its clean lines and bright, open space? Whatever your style, when it comes to furnishing your new home, choose the biggest pieces first. Working within your dimensions, pick out a couch, entertainment unit, dining set, and beds. From there, select complementary pieces that fill your space without overcrowding it.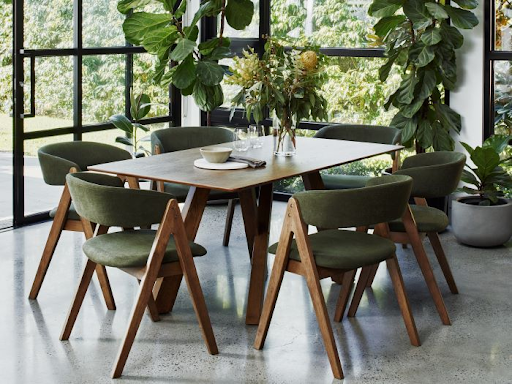 Gaudi 7PCE Hardwood Dining Set | Walnut | Green
Needless to say, a larger house will incur higher costs. You can expect to outlay at least $15,000 to furnish a two-bedroom house; for a larger home with multiple bedrooms, be prepared to spend $30,000 or more. Low-cost fast furniture can be tempting, but purchasing high-quality, durable furniture made from premium sustainable materials will be well worth the investment. We at B2C Furniture combine expert craftsmanship with genuine hardwood timber, offering superior comfort, style, and durability at an affordable price point (and a low cost to the environment). Want to create a bedroom that whisks you away from the hustle and bustle of modern living? Consider out our range of bedroom furniture. We also offer complete furniture packages, ensuring that your home's aesthetic remains consistent throughout.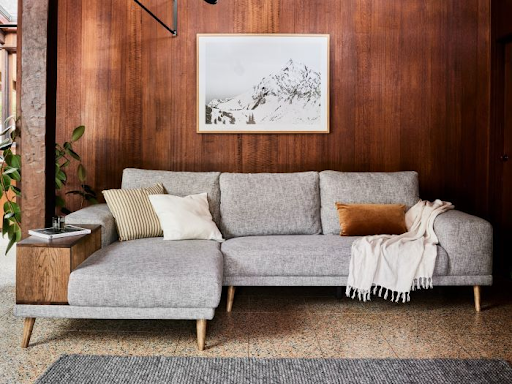 Paris Modular Sofa Series | L-Shape Sofa with Left Chaise | Grey Fabric
Furnishing a House Checklist
If you've been watching Grand Designs and Fixer Upper on repeat, but you're still struggling - put down the remote! Our B2C Furniture style masters have created a comprehensive new house checklist, detailing the essential furniture you need in a house. You'll want to bookmark this one, folks!
Living Room
Dim the lights, pour yourself a glass of wine (or three), and curl up on the couch for a night of movies and mindless chatter. The living room is - as its name suggests - a place to live. To relax and unwind, reflect on your day, and entertain friends and family. To set the mood, you'll need the right furniture. For the basic setup, you'll need:
A sofa: Depending on your space, you can choose between a 2-seater, 3-seater, or a larger modular variety.
A coffee table: Round, square, or rectangular, the coffee table is the all-important storage and display piece for your drinks, snacks, TV remotes, magazines, and decor.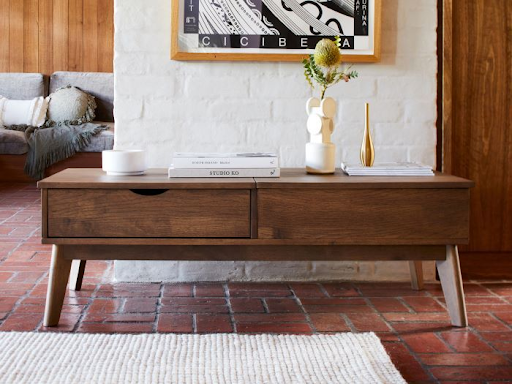 Paris Hardwood Coffee Table | Lifting-Top | Walnut
An entertainment unit: Calling all Netflix-bingers and film fans! Showcase your flatscreen on a media stand that can accommodate your Playstation, Xbox, video games, and other electronics.
Side tables: The perfect resting nook for your morning cup of coffee, your favourite books, and a softly glowing lamp, side tables are the ultimate mood-setters of your living space.
An accent chair: Create a stylish focal point with a bold accent chair. Wingback, slipper, bergère, club, English rolled arm, and fanback chairs are popular options.
For living room inspiration, browse our wide range of living room furniture. Our sustainable timber coffee tables, side tables, and entertainment units are available in a variety of stains and finishes. Our range of sofas and occasional chairs are designed for ultimate comfort and versatility. Finally, add texture and colour to your space with a luxurious rug.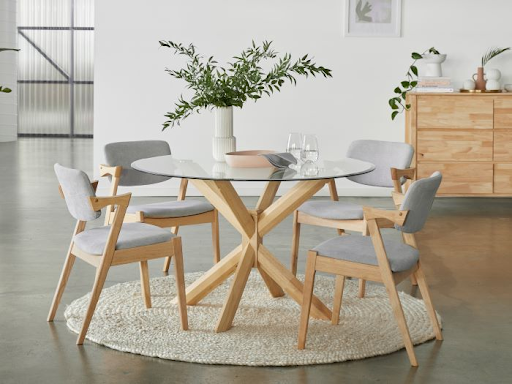 Bella 5PCE Round Glass Dining Set | Natural
Kitchen
The kitchen is the heart of the home. From breakfast around the island bench to evenings spent preparing dinner (and let's not forget dessert!), there's no doubt that food brings people together. Invest in your family's health and happiness by creating a kitchen worth coming home to. Evoke the atmosphere of an 18th-century Spanish hacienda with warm, earthy tones and opulent wooden dining furniture, or create a traditional country kitchen with a neutral colour palette, crisp white linen, and classic decor. Discover your style by shopping for:
A dining table: Gather around the kitchen table and enjoy a meal with family and friends. Depending on your kitchen's layout, choose from square, round, rectangular, or oval designs.
Dining chairs: For a timeless design, style your dining table with traditional bentwood, cross back, or upholstered dining chairs, or go for a functional modern aesthetic with clean lines and durable, sustainable materials.
A sideboard: Store your formal crockery and serving wear in a sideboard. For those with limited bench and/or pantry space, a sideboard can also be used to display bowls of fruit, bottles of wine, and other decorative pieces.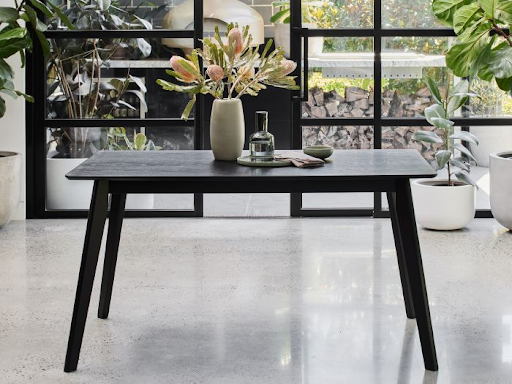 Cannes Hardwood Dining Table | Black
When styling your kitchen, consider the impact you're having on the environment (as well as your bank account). Eco-friendly furniture is long-lasting, reducing the need for expensive upgrades, and significantly reduces your household's carbon footprint. B2C Furniture takes a sustainable approach to kitchen and dining furniture, offering a range of dining tables, dining chairs, and complete dining sets crafted from locally-sourced timber.
Bedroom/Kids Room
Is there anything better than curling up in bed at the end of a long day? Your bedroom should provide a sense of relaxation while reflecting your personal style. Go for soft fabrics and neutral colours for the perfect night's sleep. Design your sanctuary with the following:
A bed frame/base + mattress: The bigger the better. If your space allows, sleep like royalty in a King-size bed. For smaller rooms, opt for a Queen-size or double bed.
Bedside tables: Store the essential items within arm's reach. Your alarm clock, Kindle, phone/tablet, and a reading lamp.
A chest of drawers: Versatile and practical, a chest of drawers is perfect for storing knitwear and PJs, as well as displaying decor. For a touch of luxury, incorporate a gilded mirror, trailing plant, jewellery box, and a diffuser.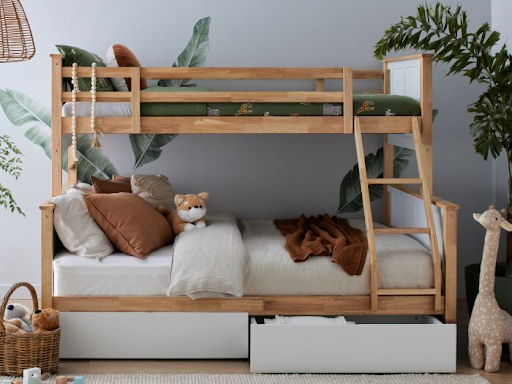 Myer Triple Bunk Bed with Storage | Hardwood Frame
Make your kids' room fun and inviting. Play with colour and texture, and incorporate artwork and decor that reflects your kids' interests and hobbies. For a bedroom that'll grow with them, look for:
A bed with storage: Make the most of your kids' space. Store extra linen, throws, pillows, and toys in a bed with storage. B2C Furniture has single, King single, double, and bunk beds with storage options. Browse our full range of kids' beds with storage.
A tallboy: Free up closet space with a tallboy. Keep your kids' school uniforms, sweaters, jeans, and PJs folded up, yet easily accessible.
Kids' bedside tables: A kids' bedside table is the perfect spot for their storybooks, nightlight, or lava lamp.
Discover B2C Furniture's range of affordable, sustainable furniture for bedrooms. Bring a sense of tranquility to your home with our plush mattresses and elegant bed frames, or create a vibrant kids' room to encourage their imagination with our playful kids' bedroom furniture.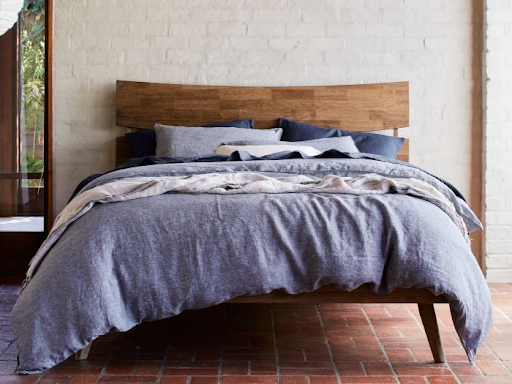 Cruz Hardwood Queen Size Bed Frame | Rustic Walnut
Bring It On Home With B2C Furniture
Now that you're equipped with the ultimate First Home Checklist, it's time to get shopping! Remember to prioritise quality over quantity; sustainability and durability over convenience. To view B2C Furniture's range of modern timber furniture, visit one of our showrooms (located in Melbourne and Sydney) or browse our products online. For any queries regarding our products, get in touch with one of our knowledgeable team members today!